ISIS Takes Credit for Axe Attack on German Train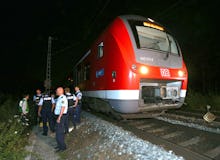 The Islamic State group has taken credit for an attack on a German train, in which a 17-year-old wielding an axe injured at least five people, the Associated Press reported. 
The teen's name has yet to be released, but authorities said he may have been "self-radicalized," as they found a hand-painted ISIS flag and notes written in Pashto during a search of his bedroom. The teen, a refugee from Afghanistan, lived with a foster family near Ochsenfurt in Southern Germany, the BBC reported.
"Even during the first emergency call, a witness said that the attacker was shouting 'Allahu akbar' on the train," Bavarian Interior Minister Joachim Herrmann said, according to the AP. 
The attack occurred Monday night near Würzburg-Heidingsfeld. The axeman reportedly left the train — which was carrying around 30 passengers at the time — looking "like a slaughterhouse," wounding four people onboard and one more as he ran off. An area hospital official told the AP it "was treating three patients with life-threatening injuries."
The suspect was shot and killed after attempting to attack police officers. In addition to an axe, he was also wielding a knife. Among those injured were three people visiting from Hong Kong, according to the BBC. 
Read more: