The First 'RuPaul's Drag Race All Stars 2' Trailer Is Here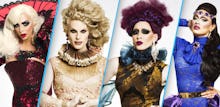 RuPaul's Drag Race fans are less than a month away from the second All Stars season ever — and their thirst for more information about the star-packed season just got quenched. Logo released the first official trailer for RuPaul's Drag Race All Stars 2 on Tuesday, featuring competitors Alaska, Katya, Alyssa Edwards and more.
In the trailer, the queens drop a huge bomb: Instead of the bottom two lip-syncing for their lives, it will be the top two performers in each challenge lip-syncing for their legacy. Additionally, the queens will eliminate each other — Ru's not calling the shots anymore.
The first All Stars season was something of a disappointment, as a stellar crop of queens was immediately handicapped by a teams twist that sent them home two by two. The result was a truncated season that critics and fans disliked.
This season, however, promises to be much more exciting. This format switch will test alliances and friendships in a way Drag Race never quite has before. Plus, with 10 of the show's best competitors ever hungry for RuDemption, it's tough to imagine All Stars 2 will be anything but an instant classic.
Watch the full trailer on Logo's website.
Correction: Aug. 2, 2016 
Read more: