Lauryn Hill Opens Up on Tax Issues, Why She Left the Game: "It Has Been an Uphill Battle"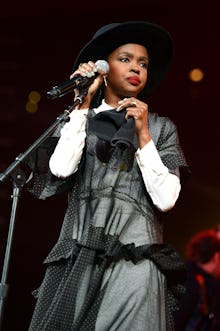 Lauryn Hill opened up about her financial woes on Monday night, in the wake of reports that the R&B singer is facing an onslaught of new tax problems. The New York Daily News reported on a June 30 tax judgment filing in New Jersey, which states Hill still owes $438,211 in taxes. "Call it the miscalculation of Lauryn Hill," the NYDN reported.
"I wanted to address the recent reports in the media that I have new tax issues," Hill replied on Twitter. "This is not a new situation, I'm still taking care of past taxes. This has been an ongoing process, and I have been working steadily toward a resolution."
Hill was sentenced to three months in prison, as well as an additional three of home confinement, when the IRS charged her in 2013 for not paying over $1 million in taxes over the course of a decade. She thanked her fans for their support from behind bars at the time, noting the "general warm reception" she felt from her fellow inmates.
"It has been an uphill battle," Hill admitted in her Twitter note. "But we're getting over the hump.  ... When you eat a lot of other people's debts like I did, and become financially responsible for as many people as I did, a break like the one I took was necessary."
The 41-year-old has had a rocky relationship with the limelight in recent years, missing a surprise performance advertised for the 2016 Grammys, and not releasing an album since 2008's Ms. Hill. The singer said her break from her career as one of the most renowned R&B artists was "necessary," and taking "bold, courageous moves ... cost me certain economic comforts." 
Hill is staying positive, though. "It's getting better every day, thank God," she wrote on Twitter. "I'm living a much more liberated existence because of it."