Republican Convention 2016 Day 2: What to Expect From Tiffany Trump, Chris Christie, More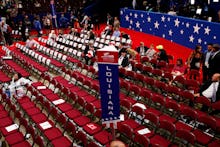 After a tumultuous opening night, the 2016 Republican National Convention in Cleveland heads into its second day on Tuesday. The official RNC theme of day two is "Make America Work Again," and Tuesday evening's speakers will likely reflect the themes of labor and job creation. 
Speakers:
According to the RNC's official convention website, Tuesday night's primetime speaker lineup includes party leaders such as Sharon Day, co-chair of the Republican National Committee; Senate Majority Leader Mitch McConnell; and House Speaker Paul Ryan. Some of Donald Trump's former primary opponents are also slated to take the stage, including New Jersey Gov. Chris Christie and retired neurosurgeon Ben Carson.
Some of Tuesday's speakers are likely there to represent the theme of the night — including Dana White, president of the Ultimate Fighting Championship organization; Andy Wist, the founder of a waterproofing company based in New York City; Kerry Woolard, the general manager of Trump Winery; and Kimberlin Brown, a soap opera star and avocado farmer.
Tuesday night's lineup also includes several members of Trump's immediate family, including his son Donald Trump Jr. and his second-youngest child Tiffany Trump, whose RNC bio describes as a "fashion model, singer and influential presence on social media."
Schedule and start time:
The main events of Tuesday's convention program will kick off at 5:30 p.m. Eastern and will include the official nomination process, which, if all goes to plan, will officially confirm Donald Trump as the Republican nominee for president. The night's speakers won't begin until after the nominating process.
How to watch:
Gavel-to-gavel CBSN coverage of the RNC will be available to livestream, and some of Tuesday's program will livestream on the RNC's official YouTube channel. C-SPAN and PBS are also offering full coverage of the convention on television. ABC, CBS and NBC's primetime coverage of the RNC will all begin at 10 p.m. Eastern.
Read more: