A Goat Drowned Because People Couldn't Stop Taking Pictures of It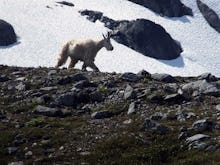 Damn it, everyone, we've been over this: Stop killing animals for the Instagram likes.
According to Seward City News, a lost mountain goat in Seward, Alaska, tried to escape a frenzied following of excited photographers by hopping into the nearby bay.
But after being pursued by locals who usually only see moose, bears and porcupines lumbering through their town of less than 3,000, the poor thing drowned because it couldn't get back on shore.
"It is imperative that wildlife is given adequate space to be able to leave a congested area like downtown Seward," troopers wrote, according to Alaska Dispatch News. "[P]eople not giving the animal space and getting close to take photos resulted in a wild animal dying for no cause."
The mountain goat in Seward is just the latest casualty of snap-happy onlookers. In February, a man in Florida pulled a shark out of the ocean to take a photo with it. That same month, tourists in Argentina passed around an endangered dolphin, leaving it to die when they were finished with it. Days later, tourists in China killed two peacocks by picking them up for photos, after which the birds apparently "died from shock."
You get the point. Knock it off with the animal abusing.
Read more: