Global Economic Growth Will Slow in 2016, Brexit Is to Blame, IMF Says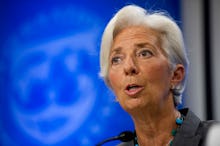 When presumptive Republican nominee Donald Trump kicks off the "Make America Work Again" segment of the 2016 Republican National Convention today, he could face some awkward questions about his enthusiastic support of Brexit, the United Kingdom's controversial decision to withdraw from the European Union. 
On Tuesday the International Monetary Fund, an international body tasked with stabilizing currency and promoting trade, announced its revised numbers for anticipated growth in gross domestic product, and the news wasn't good. 
While the overall world economy is still expected to expand, the IMF says if it weren't for the Brexit, the global economy would likely have expanded even more.
That's bad news for everyone, since lower global growth can mean fewer high-paying jobs to go around.
While the group thinks that the effects of the Brexit are likely to be contained in Europe, the most severe outcomes could halve global growth if the two-year negotiation period doesn't go well.
The IMF reported that growth numbers were better than expected in Asia, suggesting that European negotiations are what's really creating uncertainty: "Brexit has thrown a spanner in the works," said IMF chief economist Maury Obstfeld, as reported by Reuters. 
Growth in GDP is a flawed measure of economic health for a lot of reasons. It counts "bad" economic activity like spending on care for the ill as well as "good" activity like new business creation, and many argue it doesn't account at all for things like technological improvements and leisure time. 
This year at Davos — kind of the Burning Man for economists and the global elite — IMF managing director Christine Lagarde and other officials called for a new system of measuring world economic well-being.
But for now, GDP is still seen as a bellwether for the size of different economies, and any cut to the growth outlook is discouraging, especially when we consider that this is the fourth consecutive time the IMF has cut its forecasts down.
Read more