Amber Rose and Tess Holliday Reveal the Truth About Pregnancy Sex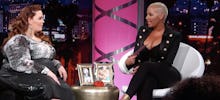 For some women, nothing says "me so horny" quite like a fetus growing inside her uterus. For others, pregnancy is a one-way ticket to StayAwayFromMyVaginaVille. Here to represent both sides of this spectrum are sassy divas Tess Holliday and Amber Rose, who recently had a lively discussion about pregnancy sex on the Amber Rose Show.
"[My husband and I] had sex two days before I went to have the baby," Holliday divulged.
"Bitch, shut up!" Rose proclaimed in response.
Rose then revealed that her friend Blac Chyna has been a walking horny toad ever since she conceived a Kardashian. "She might get mad when I say this, but Chyna — she says she's always horny all the time," she said. "Sorry, Chy!"
Rose, however, never experienced pregnancy-induced horniness firsthand.
"When I was pregnant, it was just like, 'Fine,'" she said. "I would act like I was into it but I'm like, 'Please just hurry up. Get off me.'"
Rose added that her partner at the time, Wiz Khalifa, wanted to do it around the clock — until she reached the end of her term.
"He loved my body," she said. "Then I was nine months pregnant and he was like, 'The baby's kind of big now. It's a little weird. I feel like I'm going hit my son in the head.'"
A valid concern!
Watch the full clip below:
Read more: