8 Summer Trends That Need to Die an Immediate and Painful Death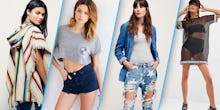 There comes a point during summer when it becomes too hot to care. Clothing is unnecessary — on our bodies only to soak up sweat. But that doesn't mean we are without any style woes. 
During the summer, there are certain pieces of clothing that get stocked by retailers and send groans across the globe. Think: jellies, shoes or shorts that make you chafe. 
Although summer has long been a time to embrace your carefree side, there are plenty of trends during the hottest months that are designed to make us suffer. So here are just eight of the most popular summer trends that need to kindly cease existence.
"Tribal" anything
OK, let's just get one thing straight: Festival attire today is synonymous with cultural appropriation because lots and lots of retailers that cater to young people, like Urban Outfitters and Free People, made it that way. They made the decision that when women go to festivals, they might as well come wearing a feather headdress and a rain stick while they're at it. 
And this makes us sad. 
There are so many other clothing options for the summer that don't have be called something like the "Peyote gown." For example, you could go the simple route of wearing a T-shirt and jeans, or just a very nice dress or romper. At this point, it'd be better to wear a full-length black wedding gown to the beach or Coachella than to pull a Native American-inspired headdress over your blonde, braided hair.
The world deserves festival attire that doesn't include a fucking rainstick. 
Sandals that want you to bleed
Although an ideal summer look is all about being sans worries (think about this picture of Rihanna feeding a monkey on the beach), there is nothing cute about wearing a new pair of sandals, looking down at your feet, and realizing that there is a massacre directly below you. 
Nothing cute about that at all. 
Since the rise of jellies in the '90s, we have been forced to squeeze our delicate, lovely feet into torture chambers made of plastic, rubber, leather and/or pleather in the summer that cause agonizing blisters, cuts and rashes. Depending on the severity, these shoes can leave residual damage long after you've reverted to other, less masochistic footwear, and considering how barefoot one's summer ought to be spent, that is not a good look. 
The world deserves shoes that don't make you cry. 
Sheer clothing that demands you wear a bra 
Here's the thing: We don't like being told what to do. But at the same time, we also don't like the prospect of going to jail. That is the conundrum of sheer clothing, which demands that you wear some sort of undergarment, unless you're pretty OK with the idea of talking to a police officer with your nipples out. 
Although, when draped over models on the runway, sheer clothing can look chic while nipples remain exposed, for us mere mortals, it is an albatross of excessive clothing during a time when we need it the least. It also seems like a grand scheme to buy more clothes to wear under these clothes, and we just don't have the time. 
The world deserves clothing that doesn't force us to wear a bra.
Shorts that beg you to chafe 
Shorts in the summer can be a godsend if you are a human being who sweats or just wants to show off your amazing gams. However, they come with a downside. With some shorts, there is the inevitability that is chafing. 
In some instances, if your thighs are not the diameter of a pencil, and the shorts ride up just so, you will eventually be in utter agony due to the fact that your body is sticky and your thighs are rubbing together, making a unique little patch of hell in between your legs. Or, as Jessa once said in an episode of Girls, it feels like you've had an "epic fuckfest with a ghost." 
(She is not incorrect.) 
The world deserves jeans that don't make you bleed. 
Crop tops that are impossible to wear if you have large breasts 
For plenty of people, crop tops are wonderful, as they offer ventilation for the middle part of your stomach as well as a chance to show off your adorable tummy. An even better thing about their existence is that men with nice stomachs have started wearing them, which is truly a gift to us all. But unfortunately, a crop top isn't something that can universally be pulled off by everyone. 
That's because some crop tops are just cut too damn high and for people with larger breasts who don't wear bras, they end up basically being a showcase of your underboob, which, until recently, was by far the most ignored part of the breast to date.
Crop tops should be about making sure everyone around you knows how cute your tummy is. The world deserves crop tops that fit many different body types, right?
Rompers that insist you be nude when you pee
Rompers and jumpsuits, like dresses, can be wonderful because they are a single garment you can put on and go blissfully throughout your day, neither thinking about your skirt blowing up nor thinking about your shirt riding up. It is a piece of clothing living in perfect harmony with your body. That is, until you have to go to the bathroom. 
Although they can be entirely flattering and basically feel like getting away with wearing a onesie when you are actually a twenty-something, rompers force you to be completely nude when you go to the bathroom. 
This becomes an especially major concern when you are at an outside event, and are faced with the idea of being completely nude (save for undergarments, maybe) in a port-a-potty. We don't wish this scenario on anyone. 
The world deserves a better romper design (with an accessible pee hole). 
Off-the-shoulder shirts that constantly ride up
Right now, the off-the-shoulder top is having a bit of a moment. Thanks to women like Kendall Jenner and Karlie Kloss, the top is now a summer staple, letting you expose your shoulder for a line-free tan. 
But as anyone who has ever worn an off-the-shoulder top knows, it can render you completely immobile. That's because, when you are wearing this sort of top, it moves constantly. When you raise your arms, the sleeves shoot up. And if the top is just a little bit too large, the sleeves can slide down. 
To make this shirt work, you have to not move your arms, and you know what? 
The world deserves better than this. 
Jeans that are ripped to near-oblivion
Ripped jeans have a time and a place. Say you want to wear pants but want a bit more ventilation. Or, say you want to wear pants and want to look as edgy as Kanye West does whenever he appears moody as hell at a fashion show with his mother-in-law. Both of those are completely fine, but what happens in the summer is that ripped jeans get even rippier (more ripped?) and effectively become shorts with a bunch of fringe hanging at your shins.
These types of pants are imitators. They are fakes. They are shorts that want to be pants that want to be shorts. Make up your mind, ya know? We, the people of the world, deserve pants that don't lie to us. 
Certainly, we're not discouraging you from wearing any of the above garments this summer. We're just ever so gently letting you know of some of their more annoying and sometimes very painful side effects. In the end, it's all about dressing how you want to dress this summer, while also being prepared for some blisters and chafing. 
Read more: