Kate McKinnon's 'Ghostbusters' Performance Is Giving Queer Women a Lot of Feelings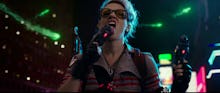 Kate McKinnon is officially the internet's girl crush. 
Starring as one of the four leads in the new Ghostbusters film, McKinnon's character has received a lot of attention for being pretty queer. Now, as with many movies, her queerness is never confirmed, and instead hints are dropped throughout the whole movie. 
And people on the internet — especially queer women — have picked up on those hints. And people are in love.
More than just lusting over McKinnon — which, given the lack of queer characters on-screen, is great in and of itself — many commented at how happy they are that young queer people can relate to a character on screen.
News outlets like Slate even picked up on the phenomenon and asked its readers: "When did you first fall in love with Kate McKinnon?" 
Director Paul Feig said he wanted McKinnon's character to read as queer to audiences. 
"I hate to be coy about it," Feig said to the Daily Beast. "But when you're dealing with the studios and that kind of thing." 
After that, Feig trailed off, indicating he probably couldn't say out right that McKinnon's character was indeed gay. 
He added, "If you know Kate at all she's this kind of pansexual beast where it's just like everybody who's around her falls in love with her and she's so loving to everybody she's around. I wanted to let that come out in this character."
There you have it: McKinnon can break hearts and barriers, all while busting ghosts. 
Read more: