Long Hours Make Your Brain Dumber, At Least If You're Over Age 40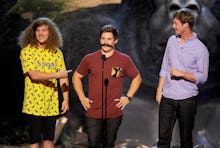 Some alarming news for those approaching middle age: Your 9-to-5 job might be impairing your cognitive function, according to a new study from the University of Melbourne.
The study — released by the university's Institute of Applied Economic and Social Research — looked at 6,000 Australian workers over the age of 40, to whom researchers administered three different tests of cognitive ability.
The results are a downer for anyone with a typical full-time schedule. On one hand, every additional hour — up to 25 hours — of work per week was correlated with higher scores for workers. So, about three days a week of work was associated with the highest possible cognitive function.
But after that, brains started to slow down. Both male and female workers who took the tests after a full, 40-hour week saw lower scores, and the test results only got worse with additional time slugging away.
The study adds nuance to the idea that our brains are basically "use it or lose it."
Many studies have found that delaying retirement and keeping your brain working longer has a number of positive effects on our mental and physical health, including reduced risks for ailments like dementia.
The new study sort of casts doubt on this idea, or at least on the idea that you need to work so hard to get the benefits. 
"Work can be a double-edged sword, in that it can stimulate brain activity, but at the same time, long working hours and certain types of tasks can cause fatigue and stress which potentially damage cognition," Colin McKenzie, a researcher who worked on the study, said to BBC.
Stress is the main reason long hours reduce your brain's ability to function.
When we get anxious, our brains produce cortisol, a stress hormone, which is thought to affect a number of important mental functions like memory and rational thinking. 
The link between stress, cortisol, and long hours is nothing new: A lot of studies have already shown similar results to the University of Melbourne research, at least for overtime workers.
The Melbourne study is new in that it suggests the threshold for what constitutes being "overworked" is much lower than we thought. 
The authors said they did not include younger workers in their study because they wanted to zero in on middle-aged and older employees specifically: Other research suggests that 40 is the age when most people's mental agility has started to decline and that decline in even older people affects important knowledge and skill areas like financial literacy.
Read more: