Lindsay Lohan Posts Perplexing Nightie Pic in Tribute to Tragedies in France and Turkey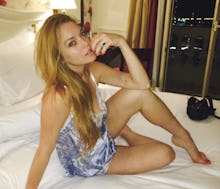 What are you trying to tell us, Lindsay Lohan?
On Monday night, the Herbie Fully Loaded star posted a perplexing Instagram tribute to turbulent events, a picture that maybe also doubled as a brand endorsement. In it, Lohan lounged on a bed in a nightie tagged Victoria's Secret (thus the brand ambassador theory), tugging at her bottom lip in contemplation of the world's tough topics.
"If history were to be folded ... where would we put the crease?" the 30-year-old actress asked in her caption. "Pray for the ones we lose everyday and appreciate every breath you [prayer hands emoji] we [prayer hands emoji] all [prayer hands emoji] take."
"#nice #turkey #turnup and do something (goodnight and sleep with an idea for the future)" she continued.
One user questioned whether or not telling people to turn up in the wake of a terrorist attack (in Nice) and a violent coup (in Turkey) wasn't a little insensitive. 
The post isn't a departure from Lohan's typical social media fare — a quick scan of her page indicates selfies, prayer hands and low-key label shout-outs to be a favorite formula of hers. Unless one counts the Brexit thoughts she recently shared on Twitter, which were actually better reasoned than those espoused by presumptive Republican nominee, Donald Trump.
Still, her photo does recall a recent woke-Instagram attempt by fellow early aughts teen star, Mischa Barton, in which the actress invited her followers to #stop and #reflect with her on the death of Alton Sterling, while she sipped rosé on the deck of a fancy looking boat. 
But, back to the task at hand: What's this business about the origami of history? What do you mean, LiLo?
Read more: