Samantha Bee Tries to Make Sense of the 2016 RNC Chaos on 'Full Frontal'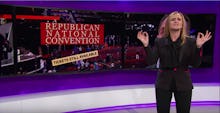 Samantha Bee wasted no time in breaking down the chaos of the Republican National Convention in Cleveland on Monday's episode of Full Frontal. The RNC gathering — or, as Bee put it, "the 41st, and possibly the last" — is so bad, she said, even the most ardent Donald Trump supporters in the political spectrum won't be attending the convention.
Sarah Palin, for example, will not be attending. Trump said it's because, well, she's far away in Alaska. 
The politicians who are within Trump's circle at the RNC aren't exactly standouts, either. Specifically, Bee went after Trump's vice presidential pick, Indiana Gov. Mike Pence. While Trump has asserted that Pence was his first choice for the seat, Bee was skeptical. 
"Truth is, after failing to convince his children to let him pick the concept of 'tits' as his running mate, Trump spent an agonizing week trying to decide between the Republican Littlefinger [Newt Gingrich] and, I guess, Roger Sterling [Pence] during an allergy attack," Bee said. 
Moreover, as Bee notes, choosing Pence isn't just puzzling because he's a relative unknown on a national political scale, but also because he's not even well loved in his state. Bee cuts to an Indiana baseball crowd incessantly booing Pence for a ceremonial first pitch, for example. 
Then there's also his troubling policies with regard to women's reproductive rights. 
It's early, but the RNC isn't off to a great start — and Bee's segment was even taped before Melania Trump's blatant plagiarism. However, on the bright side, at least Indiana will be without its much-maligned governor.   
"Hooray, best night since our all-white basketball team got that one point!" Bee concludes, with a tongue-in-cheek Hoosiers reference. 
Watch Bee's full breakdown of the RNC below.
Read more: