When Is the 2016 Democratic National Convention? Dates and Full Schedule for Upcoming DNC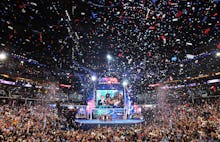 With the Republican National Convention in full swing in Cleveland, the other side of the aisle is gearing up for the Democratic National Convention, which will be held in Philadelphia at the Wells Fargo Center from Monday, July 25, to Thursday, July 28.
The DNC will serve as as the party's chance to officially nominate former Secretary of State Hillary Clinton as the Democrats' candidate for president and will also be an opportunity to rally the party for a general election fight, to unite the Democrats after a drawn-out primary battle.
An announcement from the DNC on Friday revealed some of the big-name speakers who will appear at the convention. Monday night will feature first lady Michelle Obama, Vermont Sen. Bernie Sanders and Astrid Silva, an undocumented immigrant and DREAMer. On Tuesday night former President Bill Clinton will take the stage, as will the "Mothers of the Movement," an organization of black women whose children were killed by gun violence that includes the mothers of Trayvon Martin and Michael Brown.
Wednesday night's lineup includes President Barack Obama and Vice President Joe Biden, and on Thursday night, Hillary Clinton will take the stage herself, along with daughter Chelsea Clinton.
The DNC website will offer a livestream of convention coverage, and there is an official DNC app available for Android and iOS that will feature maps, schedules and news.
Read more: