Meet Poodlecorp, the 'Pokémon Go' Hackers With a Plan to Make Society Crumble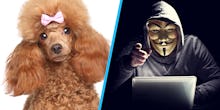 What's the quickest way to ruin a millennial's day? Take away their Pokémon Go.
No one knows this better than Poodlecorp, a hacking collective with a name that makes you go "awww" and an intent that makes you go "oh, fuck." 
"Overall, the motive is to simply piss people off," Poodlecorp leader @xotehpoodle said in a Twitter direct message. 
He said Poodlecorp is a team of about seven members — some from the collective Lizard Squad, which was responsible for the PSN and Xbox Live takedown of Christmas 2014, and others from cybercrime forum dark0de — who met in a chatroom and decided "to do something bigger than Lizard Squad.
"We do it because we can, nobody can stop us and we just like to cause chaos," @xotehpoodle said. 
Poodlecorp claims to have hacked several YouTube stars and hit League of Legends, Battle.net, StreamMe and Pokémon Go with distributed denial-of-service attacks since June. 
"We are just having fun lol," @xotehpoodle said. "We have hacked many YouTubers and are going to be hacking many rappers again as well, all this is just for fun, barely any effort for us." 
The team doesn't consider its public antics "hacking" per se, @xotehpoodle said, but they do identify as hackers.
"Most of us are retired from active states of hacking and just do this to fuck around and have fun," he said. 
He said the team members don't have day jobs — they make their money online, and "most" don't even need money anymore thanks to heists "from a while ago" (allegedly Bitcoin heists that raked in a couple hundred thousand dollars).
And aside from having its all-seeing eyes set on YouTubers, rappers and "trainers," Poodlecorp has a plan up its sleeve that's reminiscent of fsociety, the fictitious anti-establishment hacker group in Mr. Robot. Poodlecorp wants to give everyone the tools to fuck shit up. 
The team is releasing a tool called Poodlestresser that will give users the ability to hit other servers with a DDoS attack, @xotehpoodle said, like LizardStresser — a hacking tool at the public's fingertips — "but better."
It's to be determined how serious the threat is; we'll have to wait until Aug. 1 to find out. Until then, live your best life — and if you're on a tear in Pokémon Go, plan to take a short break.
Read more: