Miley Cyrus and Lolawolf Debut "Tear Drop" via Apple Music's Beats1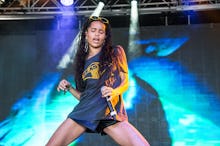 Ever since dropping her decidedly messy Miley Cyrus and Her Dead Petz following the 2015 MTV Video Music Awards, the former Disney star has been surprisingly quiet. She's teased a few snippets of music on Instagram, but Tuesday she offered a full dose of newness, hopping on Lolawolf's, "Tear Drop" via Apple Music's Beats1.
The song's sparse psychedelia provides a fitting backdrop for Cyrus' croon, which weaves deftly with Lolawolf lead singer Zoë Kravitz's voice. It's the first taste of the upcoming Lolawolf album, which the band told Beats1 they plan to finish by the end of the summer.
Cyrus and Lolawolf have worked together before, with the band opening for Cyrus on her Bangerz tour. Kravitz has said working with Cyrus has helped her open up as a performer.
"When I first started singing in rock bands, I used to hide behind the mic," Kravitz told Australia's News.com in 2014. "But when we played the first show with Miley in Brisbane this week, I got my booty out and was dancing around, things I don't usually do. We were all 'What the f ...?' was that after the show. I felt like I was Beyoncé or something."
Listen to Lolawolf and Cyrus' full "Tear Drops" via Apple Music here.
Read more: