Kesha Announces Official Comeback as Kesha and the Creepies With "Fuck the World" Tour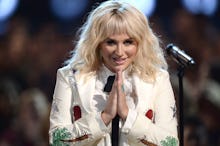 Don't call it comeback — call it a reinvention.
Following a string of emotional performances, rebounding from the ongoing sexual assault cases she brought against her producer Dr. Luke, Kesha has announced a revolutionary music project: a rock project called Kesha and the Creepies.
"I thrive from making and performing music, and much like a flower with no sun, my soul slowly dies when I don't get to create and perform," Kesha said in a press release sent to Mic. "So, for a short ride and in mostly small intimate venues, I will be performing a new creepy creation. It's been too long."
They'll be embarking on their Fuck the World Tour on July 28.
"This project and upcoming tour comes from my deep eternal love of dirty rock and roll and country music," Kesha continued in a press release. "Until I can release my own music I will be reinventing some of my old songs and some of my favorite songs from my musical idols. I've handpicked songs from artists that have helped shape who I am and the music I make today. I have missed you, all of you, so if you would like to boogie, come join us."
Kesha offered the same invitation Tuesday on Instagram.
"Are you coming to hang this summer?" Kesha asked. "I hope I see you guys there, it's gonna be fucking crazy and I'm playing songs you've never heard me play before, and I may never play again. It's purely for the fucking love of rock and roll in my soul."
Kesha already proved her ability to nail some rock classics, when she performed a rendition of Bob Dylan's "It Ain't Me, Babe" at the Billboard Music Awards in May. It was a performance audiences almost never saw, after rumors that Kesha would use the stage to air her grievances against Dr. Luke, whom she accused of verbal, physical and sexual abuse in October 2014, caused her label to briefly rescind their permission. This battle and her ongoing lawsuit has sparked outcry among fans and fellow musicians, all of whom repeatedly demanded Sony allow Kesha to be removed from their label, so she can release without having to work with her alleged abuser.
Kesha also previously performed Led Zeppelin's "Whole Lotta Love" at a surprise performance with her short-lived rock band Yeast Infection in December. Expect a lot more like this when Kesha's tour, which spans 11 states throughout August. Ticket sales for the general public starts on Thursday, while pre-sale is already underway for the pop star's biggest fans.
Here are the stops on Kesha's Fuck the World tour:
July 28 - The Colosseum at Caesars Windsor, Windsor, Ontario 
Read more: