Netflix Hit 'Making a Murderer' Will Return for Season 2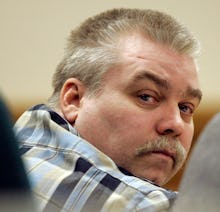 On Tuesday, Netflix announced Making a Murderer, the hit docuseries following the convictions of Steven Avery and his nephew Brendan Dassey, will return for a second season.
The show's first season immediately drew in hoards of viewers on its premise alone — a Manitowoc County, Wisconsin, man is arrested for murder mere months after his release from an 18-year stint in prison for a crime he didn't commit. But Making a Murderer thrived because of its compelling cast of characters: Avery's two lawyers, the lovable Dean Strang and Jerry Buting, Avery's family, the indignant "Ah, Hell No" reporter and, of course, all of the hair.
The season ended with guilty verdicts for Avery for the murder of photographer Theresa Halbach and for Dassey, convicted as an accessory to the murder. 
So, if it's case-closed for Avery and Dassey, what's to come in season two?
According to a press release from Netflix, executive producers Laura Ricciardi and Moira Demos promise a deeper dive into the legal process following their convictions.
"This next chapter will provide an in-depth look at the high-stakes post-conviction process, as well as, the emotional toll the process takes on all involved," reads the statement. "The episodes will offer exclusive access to Avery's new lawyer Kathleen Zellner and Dassey's legal team, led by Laura Nirider and Steve Drizin, as well as intimate access to the families and characters close to the case."
There's no word yet on the release date, but for fans still thirsting over Strang or getting into arguments over Avery's possible innocence, season two can't come soon enough.
Read more: