Who Is Dana White? What You Should Know About the UFC President and RNC Speaker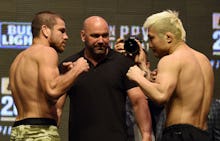 Ultimate Fighting Championship president Dana White is perhaps not a person you'd typically expect to speak at a national political convention. But that didn't stop the businessman from scoring a primetime speaking spot Tuesday evening at the 2016 Republican National Convention.
White made a name for himself in the early aughts by helping to popularize the UFC's fighting style of choice: mixed martial arts, a take on boxing with far fewer rules.
Back in the early 2000s, UFC was near bankruptcy despite being less than a decade old. Arizona Sen. John McCain had called the organization "human cockfighting," and successfully lobbied states to ban it. When McCain became chairman of the commerce committee — which oversees regulation of the cable industry — big players like Time Warner had decided to drop UFC from pay-per-view, a devastating blow to the entertainment sporting business.
White was working as a boxing promoter in Las Vegas when he heard rumors that the UFC was running out of cash, so he got an old friend (and his brother) to help him buy it for about $2 million in 2001. 
A combination of licensing, international expansion and the rise of streaming video allowed White to turn the company around. He then sold it in a deal announced early this month for $4 billion, the largest of its kind in sports history — with White is staying on as president.
Despite White's business savvy, he is not without his detractors.
The businessman has repeatedly appeared in the news for profanity, once telling Playboy magazine that "fuck" was his favorite word. And White's conflicts with others are so frequent, Bleacher Report was able to compile a list of his 50 biggest feuds — including beefs with everyone from Justin Timberlake to ESPN to White's own mother. 
Like presumptive Republican nominee Donald Trump, White has also been known to lash out at detractors on Twitter.
White's relationship with Trump goes back to at least the early aughts: At a time when other venues shunned the sport, Trump hosted UFC competitions at his Trump Taj Mahal casino property in Atlantic City, the presumptive nominee has tweeted.
The UFC chief's prominent speaking slot at the 2016 RNC Tuesday can be seen as a play for millennial males — a demographic Trump needs to win and, not coincidentally, the core of UFC's audience, which is 73% male and 45% millennial. 
July 20, 2016, 2:17 p.m. Eastern: This story has been updated.
Read more: