'Batman' Telltale Series Game Unveils Trailer and First Episode Release Date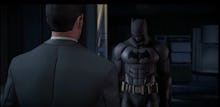 Telltale Games has made a business out of compelling visual dramas within the realm of sci-fi and fantasy series, like The Walking Dead and Game of Thrones. It's natural, then, that the video game publisher's next venture delves into the world of Batman and Gotham City. 
Telltale's Batman, which drops its first episode Aug. 2, released its world premiere trailer Tuesday. The trailer suggests the series will focus on both Batman and Bruce Wayne, with the former focused on protecting the city as a masked vigilante and the latter working through the city's shady politics. One of the villains will be mafia boss Carmine Falcone. 
Not much else is known about the game, but as a Telltale series it's certain to weave in a staple for the publishers' games: being forced to make morally conflicting choices as part of the narrative. It's worked quite effectively for Telltale's other games, and a Batman storyline is ripe for similarly dreadful circumstances. 
Watch the trailer for Telltale's Batman game below:.
Read more: