RNC Chief Strategist Uses 'My Little Pony' to Defend Melania Trump's Plagiarism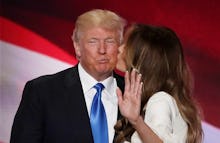 A Republican National Committee spokesman on Tuesday found a way to make an already ridiculous presidential campaign even more ridiculous.
Sean Spicer, the spokesman for the RNC, defended Melania Trump's plagiarized Republican National Convention speech Monday night by comparing her words to the children's cartoon My Little Pony.
"Melania Trump said, 'The strength of your dreams and willingness to work to work for them.' Twilight Sparkle from My Little Pony said, 'This is your dream, anything you can do in your dreams, you can do now.' I mean if we want to take a bunch of phrases and run them through Google and see who else has said them, I could come up with a list in five minutes," Spicer said in an interview on CNN.
There's little debate that Melania Trump cribbed a section of first lady Michelle Obama's 2008 convention speech.
But instead of admitting parts of the speech were plagiarized and apologizing for the mistake, Republicans have spent Tuesday digging in their heels and defending Melania Trump's remarks — prolonging a controversy that's kept the party off-message at their four-day convention to nominate their party's presidential nominee.
Spicer is not the only Republican who's used curious logic to defend the speech.
New Jersey Gov. Chris Christie, who was snubbed a chance as Donald Trump's vice presidential running-mate, defended the speech by saying only 7% of Melania Trump's remarks were copied.
"No, not when 93% of the speech is completely different from Michelle Obama's speech," Christie said on NBC's Today — showing a blatant misunderstanding of what plagiarism is.
Republicans will seek to redeem themselves Tuesday night at the second night of the convention in Cleveland, with speeches from Christie, Senate Majority Leader Mitch McConnell, House Speaker Paul Ryan and Donald Trump Jr. — Donald Trump's eldest son.
Read more: