1,000 Exeter Alumni Sign Open Letter Demanding School Take Action on Sexual Assault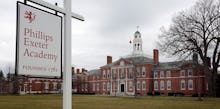 In the wake of a damning Boston Globe report on the alleged mishandling of sexual violence at Phillips Exeter Academy, 1,023 alumni of the elite New Hampshire prep school submitted an open letter to school administrators on Monday pledging to withhold all donations until the principal and board of trustees make a formal plan to fix the "breathtaking inadequacy" of its efforts to address sexual assault on campus. 
"After two major revelations of past incidents at the academy, and similar incidents at other peer schools, Exeter should have never been on higher alert, never more prepared, and never more trained to respond to the needs of a student claiming that she had experienced sexual assault with support and administrative action," the letter states. "Yet instead, Exeter's most senior administrators could not have been more asleep at the wheel."
The letter follows Exeter's announcement earlier this year that it had dismissed two faculty members over decades-old allegations of sexual misconduct. In March, the school confirmed it had quietly fired one teacher, who was accused of abusing students in the 1970s and 1980s, in 2011; the announcement sparked new allegations of inappropriate sexual behavior against another longtime Exeter teacher, prompting the school to let him go in April.
Last week, a Globe investigation, which centered on a more recent incident of sexual abuse at the school, made clear that assaults at the academy have continued. According to the Globe, last fall Exeter handled sexual-assault allegations against athlete Chukwudi "Chudi" Ikpeazu, who allegedly groped a fellow student against her will, by requiring him to bake bread for his victim and deliver it to her weekly. After months of attempting to handle the problem internally, the Globe reported, the victim eventually went to the police. Ikpeazu was arrested in June and is set to be arraigned next month.
The alumni letter slammed school administrators for its "ad-hoc and bizarre method of punishment that serially re-traumatized" the victim in the Ikpeazu case, but also for being "more focused on concealing sexual assault than addressing it, more interested in favorable press coverage than in the health of its students." 
While the school declined to comment on the letter to Mic, Eunice Panetta posted a statement on an Exeter alumni Facebook page on Thursday saying trustees are "disturbed, saddened, and deeply concerned by recent events" and plan to "redouble [their] efforts" to prevent sexual violence on campus. 
That might not be enough to satisfy former students. 
Zoha Qamar — one of the alumni who helped draft the letter and has previously spoken out about rape culture at Exeter — said she and other Exonians want "acknowledgement of the issue and a formalized conversation" about sexual assault at their alma mater. The administration has expressed willingness to meet with alumni.
"Administrators need to get their house in order properly and not with free alumni labor," Qamar said. "We are here to apply pressure to hold administrators accountable since they are demonstrating a chronic inability to do that themselves." 
Read more: