Mister Wallace's "It Girl" Is a Joyous Celebration of Black Queerness and Gender Fluidity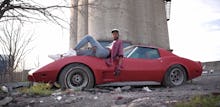 Queer rapper Mister Wallace serves up a slap in the face for gender norms and societal constraints in his music video for "It Girl," which debuted Tuesday via the Fader. 
"It Girl" shows the Brooklyn, New York-based posing on a vintage car, voguing in a mirrored elevator and slaying in several standout outfits, including a neon yellow fur trench. It amounts to a powerful expression of individuality and a showcase an unrestrained, gender fluid beauty.
"'It Girl' became my anthem and it kept me alive at a time when lovers and employers felt my blackness and my queerness had gone too far from what's acceptable to mainstream society," Mister Wallace told the Fader about his first music video off his EP Faggot, released in February. "My hope is that this song, my truth, gives you LIFE and inspires you to appreciate the lives of those who look and feel like me."
Few of the shoot's settings match Wallace's flair. He elects to vogue on top of rusting junkers and under bridges. That contrast between his fabulous swagger and the burned-out environments is one of the major thrusts of the video.
"I wanted my video to show a street kid chasing a broken American Dream," "'It Girl' dreams of fame, glamour, fashion shoots, fast cars and speed boats but they're all beautifully broken, decayed and up on blocks," Wallace continued. 
"My team at the Music Video Truck decided to shoot this video in 10 hours with a budget of $400 and a crew of two people, maybe that's what gives it a kind of tragic glamor. It's all just play. I find the social pressure of being glamorous, famous and successful in America to be unbearable. We made this video for those who still find glamor and dignity even in their worst conditions."
Watch the full video below and check out the rest of Faggot on SoundCloud. 
Read more: