Lobster Roll Croissants: Sacrilegious or Delicious?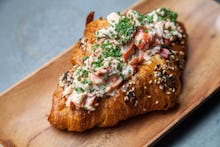 Turns out lobster and sandwich rolls are not monogamous.
One restaurant has done some thinking outside the bun, offering a French twist on the summer staple. While the lobster roll is typically served on a split-top New England-style hot dog bun, according to Bon Appétit, Union Fare restaurant in New York City is serving a version stuffed into a croissant. It's unclear whether this makes the dish a pastry or not, but the flaky combination is certainly intriguing.   
While staunch traditionalists might be wary of a croissant base, the pairing actually makes perfect sense. As Bon Appétit notes, any soft and squishy bread can be used to make a stellar lobster roll. While a bit unorthodox, the croissant meets both of those criteria.  
It was a pastry that inspired Union Fare's executive chef Yvan Lemoine to put lobster and croissants together. "There's a pastry called a lobster tail that has layers of flaky pastry shaped like a lobster's tail and it is filled with pastry cream," he said in an email. 
According to the chef, the unconventional pairing proved successful. "The butteriness of the dough complements the meaty sweetness of the lobster really well," Lemoine said. "So far, customers think it's pretty cool." 
To make the dish, Lemoine slices open the top of an croissant "just like you do with a hot dog bun when you make a classic lobster roll." For warmth and crispiness, he toasts the croissant, then stuffs it with the creamy salad. 
It's a move he recommends doing at home — just maybe don't eat it in front of any proud New Englander. 
Read more: