Tiffany Trump RNC Speech: Here's What to Expect When Donald's Daughter Takes the Stage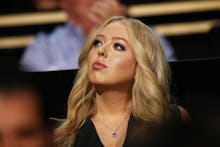 The Trump clan didn't exactly get off to the strongest start during Monday's kickoff of the Republican National Convention. But the show must go on, and on Tuesday night, presumptive Republican nominee Donald Trump's daughter 22-year-old Tiffany Trump will take the stage to heap praise unto her father in what are hopefully her own words.
Tiffany will be the first of Trump's five children to speak at the convention, followed soon after by half brother Donald Trump Jr. 
But while most of Trump's brood have gotten a fair amount of press since the start of their father's campaign — Ivanka, for vouching for Trump's supposed feminism and maybe ripping off a luxury brand's shoe design — Tiffany remains the nominee's "less well-known" or even "mysterious" daughter.
So, while the 22-year-old may be otherwise known as a singer, model and recent University of Pennsylvania graduate, Tiffany Trump, the daughter of Donald and second wife, model Marla Maples, will make her political debut on Tuesday.
Given Melania's misstep last night, borrowing from Michelle Obama's 2008 Democratic National Convention speech, it's likely Tiffany's speech will be well-reviewed and rehearsed.
Like her half sister Ivanka, Tiffany may speak to why Trump is deserving of the support of women in particular, a voter demographic he's sorely losing. 
If all goes as planned, Tiffany's speech will go off without a hitch, easily upstaged by other highly anticipated speakers like House Speaker Paul Ryan, New Jersey Gov. Chris Christie and former GOP presidential candidate Ben Carson. 
Read more: