How to Get Verified on Twitter After Rule Change Lets Anybody Apply for Blue Checkmark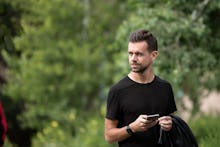 On Tuesday, Twitter announced that it will let anyone request to get their account verified — a change from its old policy of selecting journalists and public figures to verify.
The announcement was made amid an outcry from the Twittersphere after Ghostbusters star Leslie Jones shared the flood of racist and sexist tweets she'd been receiving. The community pleaded Twitter to update its abuse policies and give users better tools to combat harassment.
CEO and co-founder Jack Dorsey asked Jones to slide into his DMs. A day later, Twitter announced that it would let anyone request a verified account.
How to apply for verification
It's pretty easy to request that delicious blue checkmark — almost as easy as reporting harassment on the platform, but maybe not as futile an effort. 
First, input your Twitter handle.
Then, tell Twitter a little bit about yourself.
Maybe use the 500-character limit to suggest some effective anti-harassment tools. 
You'll then need to upload a picture of your photo ID to confirm your identity. 
You'll then review your submission. That's it!
It's yet to be seen whether this service will be a boon or a blow to the worst people on the internet. Will Twitter let new accounts with a history of harassment get a checkmark? What are the qualifications you need to get verified? Unclear! 
And what happens if the updated verification process actually curbs trolling? Will Twitter's old guard become a utopia of checkmarks, unbothered by the unverified masses?
But if all it takes are a way with words and a photo ID, I can't wait for those trolls to slide into my mentions.
Another question: What requests will Twitter prioritize? At the same time as I applied for verification, I reported a horrendously racist tweet sent to Leslie Jones. We'll see which one I hear back about first.
Read more: