"Black Olives Matter" Sign at Albuquerque Area Restaurant Triggers Anger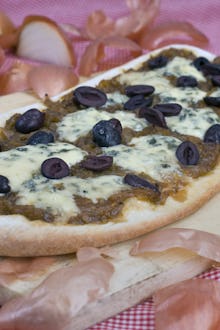 An Italian restaurant in Albuquerque, New Mexico, may have taken it too far when it changed its billboard to read "Black Olives Matter — Try Our Tapenade," a play on the name of the civil rights movement, Black Lives Matter.
According to KOB 4, Paisano's owner Rick Camuglia says the sign was a "cute play on words, which we do commonly here at the restaurant. We were trying to promote our pan-seared ahi tuna with a black olive tapenade relish. And so we put 'black olives matter, try our tapenade."
Since posting the sign, Camuglia said he received hate mail and angry phone calls, some calling him a racist. It's not hard to see why feathers might be ruffled — Black Lives Matter protests widespread racism in the U.S., and particularly police violence against minorities.
"The posted sign at Paisano's Restaurant that included the phrase 'black olives matter' is a nice marketing idea," Albuquerque NAACP president Harold Bailey told KRQE. "However, with all of the national uproar, demonstrations and marches, regarding the shooting of African-American men and youth by police officers, the Albuquerque NAACP feels that it was in bad taste. The decision to take it down is appreciated."
Camuglia brushed off the criticism in his interview with KOB 4, saying he believes the sign "shows an interesting state of affairs of where our country is that people, first of all, can be offended by a statement about a vegetable. Black olives matter, and it does matter in our tapenade."
According to Killed By Police, a site which tracks media reports of police killings, 639 people have died following encounters with law enforcement officers this year. Another infographic, by the Washington Post, confirms 532 people have been killed by police in 2016, including 131 black people.
A manager at Paisano's was not immediately available for comment.
Read more: