10 Delicious Chia Seed Recipes That'll Make You Believe in the Health Benefits of Chia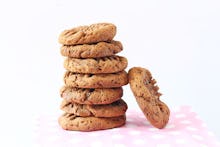 Chia seeds are the teensy darlings of the health world: Article after article touts the benefits of the black seeds, which were once used by the ancient Aztecs, Incans and Mayans as a source of energy, Men's Fitness reported. The little nutritional powerhouses are packed with potassium, fiber and omega-3 and omega-6 fatty acids. Plus, the seed has twice as much protein compared to many other grains, and, quite notably, five times the calcium of milk.  
And while they were once relegated to the world of silly infomercial sprouting plants, chia seeds are now widely available everywhere from the shelves of health food stores to your local Trader Joe's. 
And luckily, there are ways to get through an enormous bag of these seeds beyond sprinkling them on yogurt or salad (though those are great options, too). Chia has the amazing ability to form a gel when soaked in liquid, which means the sky's the limit when it comes to recipe potential: A handful of chia will add a little body to drinks, shakes and smoothies, and acts as a wonderfully textured base for healthy puddings. And, hot tip: Chia seeds provide a nice shortcut for making jam, and they add a dietary punch to baked goods. 
Want the details? Here are 10 delicious ways to use up a big bag of chia seeds: 
1. Cucumber, lime and chia fresca 
Aguas frescas, or literally "fresh waters," are a popular way to hydrate in Mexico. They are typically made from fruits and seeds that are blended with sugar and water for a thirst-quenching, nonalcoholic drink. This recipe, from the blogger behind Onion Rings and Things, mixes together cucumber, lime and chia seeds for a punchy, but refreshing beverage that is great for a crowd. Get the recipe here. 
2. Honey lemon chia seed muffins 
While muffins are basically cupcakes masquerading as breakfast, a good way to make them a bit more wholesome is to throw a couple of tablespoons of chia seeds into the batter. This Table for Two recipe also uses ricotta cheese for some irresistible fluffiness. Get the recipe here. 
3. Chocolate chia cookies
The best part about these cookies from the blog My Fussy Eater is that they have just four ingredients in them, all of which are relatively healthy. The recipe calls for peanut butter, cocoa powder, chia seeds and an egg, and requires simply mixing the four together, rolling them into little balls and baking them. The result: A sneakily nutritious way to satisfy a sweet tooth. Get the recipe here. 
4. Chia pudding pops
If you've ever wanted to eat popsicles for breakfast (no shame), this recipe by The View From Great Island is the perfect recipe for you. These chia coconut pudding pops are made with coconut milk and plenty of fresh fruit chunks (any fruit you have on hand will do). The pops are essentially portable chia pudding masquerading as ice cream. Get the recipe here. 
5. Chai latte overnight oats
Overnight oats are a grand, no-fuss breakfast, especially for anyone who hates cooking. All that's required is mixing together the ingredients and allowing the oats and flavors to soften and meld in the fridge. This recipe from 24 Carrot Life features coffee, providing a caffeinated and nutritious jumpstart to the day. Get the recipe here. 
6. Blackberry chia seed jam
Making jam from scratch is a daunting process that requires hours of boiling and canning — unless you use chia seeds. The little black seeds are nature's shortcut to homemade jam; the process takes about 20 minutes total. Get the recipe from Two Peas & Their Pod here. 
7. Piña colada chia seed smoothie 
If you like piña coladas but don't like the pain of waking up with a sugary hangover the next day, this smoothie is for you. It has all of the flavors of the popular drink, plus a boost of fiber from chia seeds. The recipe doesn't call for rum, but there's no reason why you can't add it in, if that's your thing. Get the recipe from The Suburban Soapbox here. 
8. Key lime chia pudding
9. No-bake coconut chia bars
No-bake cookies, anyone? These bars are loaded with oats, coconut, peanut butter, cocoa powder and plenty of chia seeds for a nutrient-dense and chocolatey snack that doesn't require an oven. Get the recipe from Running on Real Food here. 
10. Chia seed tortillas
Read more: