Donald Trump Is Officially the Republican Presidential Nominee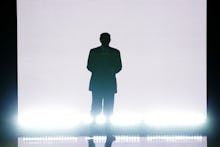 In a moment almost no one predicted when the presidential race kicked off more than a year ago, Donald Trump officially became the Republican presidential nominee Tuesday night at the Republican National Convention in Cleveland, after delegates voted to confirm the primary results and confirm him as the new leader of the GOP.
Despite rumblings by anti-Trump delegates, Trump was nominated with ease — with just a few state delegations casting ballots for candidates other than Trump and scattered boos on the floor as Trump's delegate count rose.
New York, Trump's home state, put him over the 1,237-delegate threshold to hand him the nomination.
Trump's eldest son, Donald J. Trump Jr., read New York's delegate count to announce his father had officially become the GOP nominee.
Whether Trump's nomination would go off without a hitch remained up in the air Tuesday morning, after a disastrous first day of the RNC.
Monday's convention began with a revolt from an anti-Trump contingent of delegates and ended with a speech from Trump's wife, Melania, in which a chunk of the speech was plagiarized from a convention address first lady Michelle Obama delivered in 2008.
Three elected officials delivered speeches to place Trump's nomination on the floor, including Alabama Sen. Jeff Sessions — whom Trump vetted to be his vice presidential running-mate but ultimately decided against.
"Donald Trump is the singular leader who can get this country back on track," Sessions said in a speech, in which he placed Trump's nomination on the floor.
Sessions' nomination was seconded by New York Rep. Chris Collins, the first member of Congress to endorse Trump, and further backed by South Carolina Lt. Gov. Henry McMaster.
"Donald Trump is not merely a candidate," Collins said. "Donald Trump is a movement."
Read more: