Best iOS 10 Features: GIF Search Is the Only Good Addition to Apple's Messages App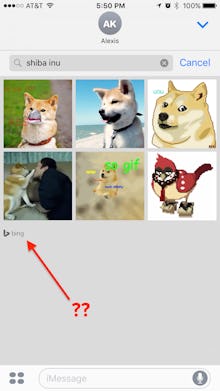 Now that Apple's iOS 10 beta is available to the public, I'm rounding up a few enjoyable new features that will change how you use your iPhone. First up: GIFs in Messages.
Earlier this week, I wrote about the Bedtime feature, whose new alarm tones offer a much better way to wake up. 
Now I'd like to talk about the updated Messages app, which is loaded with difficult-to-use features that are more flash than function, like the sketch and heartbeat tools. Not only are they unnecessary, but they're counterintuitive: Draw a little sketch to send a friend, for instance, and it seemingly sends as soon as you lift up your finger — you get one shot. Also, they look like shit.
There's one feature that's actually easy to use and a lot of fun, though: GIF search. 
GIFs make for the perfect punctuation or space filler in a conversation, but accessing them from the Messages app has always been a chore. Using iOS 9, you need to install a third-party GIF keyboard, just like you did when you added emojis to your phone. That gets annoying when you're forced to cycle through all those keyboards just to get back to the letters.
Texting GIFs is easier now. When you open Messages, you'll see a new menu: a camera icon, which brings up your photos; the heartbeat/sketch menu (stay away); and then an App Store icon. 
Under the App Store icon, you'll see these schmaltzy messages that look like a third-grader's handwriting. Apple, what were you thinking? No one will use these — they feel about as intimate as a Donald Trump cheek kiss.
Anyway, swipe to the left to access the second window. These are the GIFs you want.
It gets easy from here! Tap a GIF or search for what you want and it'll automatically appear in your message. Who knows why it uses Bing to search. Giphy and even Google Images seem to have a larger and more thorough GIF library.
Don't worry, you can still add a comment to send with it.
Enjoy your GIFs! Over the next few weeks, I'll be highlighting a couple other new features I actually like. If anyone is actually using that damn sketch/heartbeat feature, I would love to hear from you. Am I just doing it wrong?
Read more: