Third Eye Blind Threw a Semi-Charmed RNC Performance to Troll the Sh*t Out of Republicans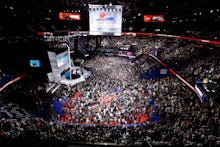 Rock band Third Eye Blind epically trolled Republicans Tuesday night during a charity event in Cleveland — the same city hosting the Republican National Convention — throwing shade at the GOP by touting LGBTQ rights and saying the band believes in science.
The political statement from the band, which was performing at the Rock and Roll Hall of Fame for a charity event hosted by the Recording Industry Association of America, elicited loud boos from the audience.
"You can boo all you want, but I'm the motherfucking artist up here," the band's lead singer, Stephan Jenkins, said.
To continue its long troll of the event, the band barely played any of its hit songs, according to tweets from audience members.
And the one hit the band did play — "Jumper," which is about Jenkins' gay friend who committed suicide by jumping off a bridge — was preceded by a message in support of gay rights.
"To love this song is to take into your heart the message and to actually, actually have a feeling to arrive and move forward, and not live your life in fear and imposing that fear on other people," Jenkins said before playing the song.
Even after the event, the band continued its troll, replying to angry event-goers with curt answers suggesting the band felt no remorse about the political statements.
In a statement on Twitter, the band sought to clarify their political statement, saying the event was not sponsored by or a part of the RNC — but was attended by a number of Republicans in town for the convention.
"Given that the benefit was held in Cleveland, we suspected that convention types might show up and we let it be known we were there to support Musicians on Call and that we in fact repudiate every last stitch of the RNC platform and the grotesque that is their nominee," the band wrote in the statement.
Republicans adopted many anti-LGBTQ provisions into their party's platform this week at the RNC, including supporting gay conversion therapy and declaring that children are better off in a two-parent household with a mother and father.
Donald Trump also chose Mike Pence as his running mate, an anti-LGBTQ rights conservative who opposes same-sex marriage and supports gay conversion therapy.
July 20, 2016, 4:00 p.m. Eastern: This story has been updated.
Read more: