Extremists in Brazil Just Declared Allegiance to ISIS Right Before the 2016 Olympics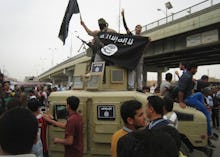 The 2016 Olympics just can't catch a break: A Brazilian extremist outfit pledged its allegiance to Islamic State leader Abu Bakr al-Baghdadi, according to jihadist monitoring group SITE.
The group, which calls itself Ansar al-Khilafah, made its declaration less than three weeks before Rio de Janeiro hosts the 2016 Summer Olympics — a move that SITE director Rita Katz said was "intentional."
"Troubling," she tweeted. "Western-language #ISIS channels (English, Portuguese, Spanish, German, etc.) showing drastic increase in both quality & speed."
The group sent out its message via Telegram, an encrypted messaging app like Whatsapp that also lets users host private channels. It also makes for an easier channel for lone wolf attacks to become radicalized.
Brazil Defense Minister Raul Jungmann said his country is preparing the best it can. According to the Telegraph, 22,000 troops came to Rio de Janeiro for final Olympics preparation.
"We will increase security with more reviews, metal detectors and identification checks to ensure the tranquility of the games," Jungmann said, according to the Telegraph.
The Ansar al-Khilafah pledge is just the latest in a string of bad news for Brazil's time in the Olympic spotlight.
Earlier this month, scientists discovered a "superbacteria" in Rio's water, apparently a byproduct of sewage from local hospitals. According to lead researcher Renata Picao, the bacteria also appears to be drug-resistant, making any human impact difficult to treat.
Before that, an outbreak of the Zika virus caused Olympic athletes to drop out of the Games for fear of bringing home an infection and spreading the disease — something that is already happening.
Amid all of this, there's the security problem. Even though Jungmann promised heightened security, violence is on the rise in the country, with Brazilian police forces unsure they'll be able to protect tourists who come to the games.
With all of that, and now a new terror threat, the Rio Olympics are in big trouble.
Read more: