Brian Justin Crum Slays 'America's Got Talent' With a Stunning Rendition of "Creep"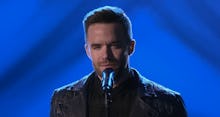 Brian Justin Crum showed off his incredible range and haunting vocals during his rendition of Radiohead's classic "Creep" on Tuesday night's episode of America's Got Talent. The standout performance of the night earned the openly gay and former Broadway singer a spot in the live shows after passing this week's night of cuts made by the judges.
The notoriously brutal Simon Cowell watched the performance in awe. "Every time we've seen you, you've put on a performance, which is exciting," he told Crum. "It's actually quite breathtaking."
"I think you're one of the best singers we have on the show this season," Heidi Klum added. Crum's emotional performance is just the latest of his to go viral, following his previous rendition of Queen's "Somebody to Love." Both performances captured the ears and hearts of the LGBTQ community and others across Twitter when they aired.
"I think we all feel like we're creeps, and we're weirdos, and we're different," judge Howie Mandel noted. "[But] we all belong here."
Crum, who has maintained an active social media presence throughout America's Got Talent's latest season, was moved by the response his "Creep" performance received online Tuesday night. 
"We are all creeps and weirdos," Crum wrote on Twitter following the airing of his latest performance. "I'm so blessed to share this journey with you. You are loved you are special."
Read more: