Watch Stephen Colbert Take Over a Food Truck Outside the RNC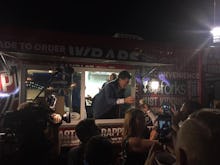 If this whole talk show host and comedian thing doesn't work out, Stephen Colbert might have a second career as a cook. On Sunday, Colbert hopped aboard the Wrap It Up Food Truck, which was parked outside the Republican National Convention before its official commencement, local television station WJW reported. 
Wrap It Up, an Ohio company that makes giant wraps, posted Sunday a video of Colbert popping out of its truck's window to its Facebook page. Colbert ran a different kind of Hunger Games, as he can be seen dishing out goodies to eager customers. Fireworks fittingly go off in the background as Colbert makes his own sparks fly. 
"Stephen Colbert is an excellent cook and he offered to lend the Wrap It Up Food Truck crew a hand," the video noted. "Is there anything this man can't do?!"
Colbert, who is in town for the convention, worked two vastly different shifts Sunday night: Along with serving up sandwiches, he also worked the RNC stage donning a bright blue wig, complete with matching eyebrows. "It is my honor to launch and begin the 2016 Republican National Hungry for Power Games," Colbert said before being escorted off. 
And while there's no way to prove convention attendees are hungry for power, the crowd outside the food truck showed their true colors: They are certainly hunger for wraps. 
Read more: