Philadelphians Will Eat Hillary Clinton's Leftovers Thanks to a DNC Food Waste App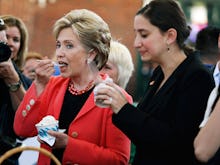 Next week, an influx of Democrats, media and protestors will flood Philadelphia for the Democratic National Convention. They'll stuff themselves with hundreds of Philly cheesesteaks, hoagies and soft pretzels. And when their bellies are full, uneaten food platters won't go to the trash — they'll go to Philadelphians who are food insecure.  
Catering platters at large-scale events often get tossed, but one inventive company is going to provide a safe and easy way for DNC event hosts to donate surplus food to people who are food insecure. 
Food Connect coordinates pick ups of surplus food from restaurants and catering companies and transports it to local food pantries and banks. They've partnered with several Philadelphia anti-hunger organizations to help curb food waste from the estimated 50,000 visitors that will come to town for the convention. 
Anyone in Philadelphia with an iPhone or Android phone can download the app and schedule a pick up of surplus food. Volunteers will then drive the food to food banks, pantries and emergency meal providers, Food Connect writes on their site. 
In Philadelphia, nearly one in four people live in poverty and one in four are food insecure, Food Connect noted. Plus, a third of all people in Philly use the Supplemental Nutrition Assistance Program — food stamps. 
Tom Mahon, a spokesperson for the Greater Philadelphia Coalition Against Hunger, told CBS Philly that anyone can download the app. It will still be up and running after the DNC, too. 
Food waste is an enormous problem in the United States. Mic previously reported that the U.S. wastes 50% of the produce it grows each year, and roughly $29 billion worth of food is trashed because people are confused by sell-by dates.  
Will Philadelphians chow down on the same kind of food as presumptive Democratic presidential nominee Hillary Clinton? According to the Daily Meal, Clinton likes American food and Middle Eastern dishes like hummus, tahini, and baba ghanoush. 
If all goes according to plan, Philadelphians will have some extras to eat. Hopefully they like hot sauce as much as Hillary does.
Read more: