New Video Shows German Axe Attacker Pledging Allegiance to the Islamic State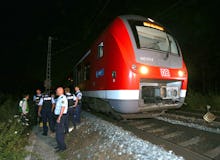 Earlier this week, a 17-year-old Afghan man wielding an axe and a knife injured at least 20 people aboard a train in Germany before police shot and killed him.
A new video, purportedly released by the Islamic State after the extremist group took credit for the attack, shows the young man, brandishing a knife, delivering a terror manifesto into his camera. 
Speaking in Pashto, the young man, who the Islamic State said is named Muhammad Riyad, says on film that he's an "IS soldier," on his way to a suicide mission, vowing "revenge on the infidels," the Associated Press reported. Interior minister of the state of Bavaria, Joachim Herrmann, said authorities found a hand-painted ISIS flag in the teen's bedroom, and that the man appeared to be self-radicalized.
The lone wolf attack came days after ISIS claimed responsibility for a Bastille Day attack in Nice, France, that left 84 dead. A 31-year-old Tunisian man named Mohamed Lahouaiej Bouhlel drove a truck through Bastille Day celebrations, saying the attack was "to answer the calls for targeting the nationals of countries in the coalition that is fighting Islamic State," the New York Times reported.
While the Afghan teen's axe attack didn't leave casualties, many people were seriously injured. It shows the latest in a trend of single-man attacks that aren't necessarily affiliated with a terror organization. According to the BBC, the materials found in the teen's bedroom line up closer to someone who made choices on his own, not at the behest of an organization. And that's what makes this all the more troubling.
Read more: