Pokémon Go Lovers Officially Have Their Own Dating Website, And It's About Damn Time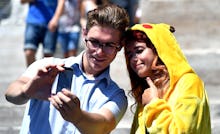 People are already using Pokémon Go to find love and make new friends. Now, dating app developers are finally catching on.
A new PokéDates dating site launched on July 20, offering Pokémon Go players matches selected by human matchmakers instead of algorithms. The service will be an extension of an existing dating site founded in 2012, Project Fixup. According to CBS8 News, it will use both user-submitted profiles and schedules to recommend potential matches. 
"PokéDates are a perfect addition to the Project Fixup dating theme roster," Sarah Press, co-founder and CEO of Project Fixup, told CBS8. "We've worked with bike sharing companies for bike ride themes, comedy clubs for comedy themes. ... We hope PokéDates will bring singles together to experience the joy of the game and explore their city while getting to know one another." 
Meanwhile, a second Pokémon dating app also debuted today, Pokematch. This one is more like Tinder for Pokémon Go players, as matches are made based on geolocation data and mutual swipes. But even so, hours after a Reddit post announced the launch of Pokematch the thread was already flooded with comments. "This is great," wrote Reddit user Elvishly, "My Tinder profile actually states: 'I'm honestly just looking for someone to play Pokémon Go with." 
Before these new dating apps launched, Pokémon Go was already creating spontaneous romantic moments around the world, like the chance meeting that inspired Reddit user YinyuesLOL to write, "I just met a girl while playing Pokémon Go and we are in love now." The introduction of official Pokémon dating sites offers even more potential for singles hoping to find love through the game, which offers all kinds of opportunities for urban exploring. Who knew Pikachu was such a romantic?