Sajid Tarar of American Muslims for Trump Closed Day 2 of RNC 2016 — And Twitter Went Wild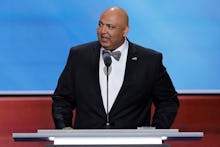 There was a sense of confusion in this country when American Muslims for Trump leader Sajid Tarar went onstage Tuesday during the 2016 Republican National Convention to perform a benedictory prayer.
Tarar, who has made headlines before by endorsing Donald Trump's Muslim ban, prayed to strengthen the United States and end terrorism around the world. Tarar did not mention "Allah," the Arabic translation for "God," but he was still met with hefty opposition. Boos and "No Islam" chants were heard coming from the RNC audience — proving that anti-Muslim sentiment is still prevalent even toward Muslims who vigorously back Trump.
Tarar told CNN after his RNC appearance that Americans for Trump has about 400 members.
Twitter called out the irony of an "American Muslims for Trump" group and took Tarar to task, saying he was the only member.
Read More: