Mila Kunis Just Answered the Question: Can You Turn a Hookup Into a Boyfriend?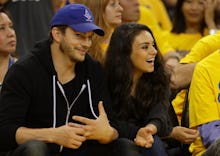 There are many things that the rules of society say we can't do: An old dog cannot learn new tricks; Leonardo DiCaprio cannot put his penis inside a woman over the age of 19 or it explodes; and so on and so forth. Another addition to this list: A fuck buddy cannot magically transform into solid boyfriend material overnight. It just. Doesn't. Happen. 
That said, there are exceptions to this rule, as the fairy-tale romance of Mila Kunis and Ashton Kutcher amply demonstrates. In an interview with Howard Stern, Kunis revealed her relationship with her former co-star, now-husband initially started out as a no-strings-attached, friends-with-benefits-type situation, similar to the plots of the Kutcher-Kunis vehicles No Strings Attached and Friends With Benefits:
"We both were in agreement, like, 'Yeah, this is just fun. Just fun,' shook hands on it, 'This is just fun,'" Kunis recounted on Stern's show. "Three months later, I was like, 'This isn't fun anymore.' 
Kunis added that from the get-go, the two "were incredibly open with one another in regard to where we were with our feelings," which helped them transition from casual fuck buddies to a full-time couple. "We found out we would literally attempt to see other people and then like that night we'd be like, 'Hey, what are you up to? Wanna come over?'" she told Stern. "It ended up being just having fun to genuinely wanting [more]."
Although Kunis and Kutcher have known each other since they co-starred on That '70s Show from 1998 to 2006, they only started dating in 2012, shortly after Kutcher divorced ex-wife Demi Moore and Kunis broke up with her longtime boyfriend Macaulay Culkin.
At the time, Kunis said, both were fully committed to enjoying a life of singledom.
"We started dating with the idea we're both never going to get married," the Bad Moms star told Stern. "[I] was single and having the best time ever. I was totally dating, having a great time, and I was like, 'I'm never getting married.' He's like, 'Great, neither am I!' And we're like shaking hands on it and we're like, 'Life is great!' A year later, we're like, 'Tomorrow, let's get married.'" 
Although Kunis and Kutcher might seem like an exception to the rule, it's actually not totally unheard of for a casual hookup to eventually blossom into a full-time relationship. According to a 2014 "Singles in America" study by anthropologist Helen Fisher, approximately 28% of survey participants said their friends with benefits had eventually become long-term partners, while 27% reported that a one-night stand had also turned into a full-fledged relationship. 
While those numbers don't necessarily indicate that everyone who's had a fleeting, sangria-fueled moment with a stranger in a handicapped bathroom will end up marching down the aisle with said stranger, it does provide an inkling of hope for those ultimately looking for long-term relationships. 
Even when people say they're just looking for something casual, ultimately, when it comes down to it, few of us know exactly what we're looking for — especially when the right person comes along. So while it's unclear if there's some universal formula to turn a hookup into relationship material, it clearly worked out for Kunis and Kutcher: After getting married in 2015, the couple now has a 1-year-old daughter and is expecting their second child together.
Read more: