Should You Buy the iPhone 7? Most People Say They Won't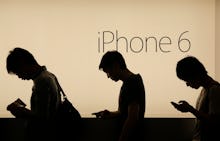 Apple has been successful in getting the sheeple to ride the hype train each year for its new shiny rectangle — but it looks like the momentum is finally burning out. 
Based on a survey of 525 U.S. iPhone owners "whose demographics are representative of the population," only about 9% of respondents are likely to upgrade to the iPhone 7 if it isn't redesigned, 9to5Mac reported. 
Apple will likely release the iPhone 7 this fall — and rumors point to a disenchanting unveiling. 
"We conclude that the iPhone 7 will prove to be a modest upgrade, with significant innovations pushed out to the iPhone 8," Credit Suisse analyst Kulbinder Garcha said, as reported by Investor's Business Daily.
And based on the survey, a "modest upgrade" is not tantalizing enough to convince an iPhone owner to shell out their hard-earned cash for the next-gen device. 
But this meh attitude toward upgrading is unsurprising — Apple saw its first quarterly revenue decline this year after a 13-year growth streak, the New York Times reported, with a 13% decline in its second quarter this year, with a decline in iPhone sales. 
Rumors also suggest the iPhone 8 is going to massively eclipse the iPhone 7 in its design and feature upgrades, so if an iPhone owner is holding out for the flashiest rectangle of the two, they'll likely want to wait for the 10th anniversary iPhone. 
It may be time for Apple to take the three-year upgrade cycle seriously — the slump in sales coupled with the underwhelming outlook held by iPhone users points to a future where we don't really need to buy a new phone every damn year.
Also, less work for Liam!
Read more: