Rudy Giuliani on Melania Trump, Black Lives Matter and His RNC Speech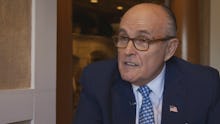 CLEVELAND — Rudy Giuliani was definitely hot in Cleveland.
The former New York mayor and 2008 presidential candidate delivered a podium-rocking, high-volume address to Republican National Convention delegates on Monday.
But in a quieter moment on Tuesday, he sat down with Mic to speak in greater detail about his thoughts on the Trump campaign, a controversial speech by the nominee's wife, Melania, as well as Hillary Clinton and the Black Lives Matter movement.
Here are the highlights.
On Melania Trump's speech
Giuliani praised the prospective first lady for speaking to RNC delegates from the heart — taking issues with critics and media outlets, which focused on how Melania Trump's remarks that borrowed strikingly from Michelle Obama's 2008 Democratic National Convention address:
"I thought Mrs. Trump's speech was quite poetic, quite beautiful," Giuliani said.
"Her expressions about her parents were roughly the same as what I would say about my parents. I was blessed to have two good parents, and I think they were kind of almost generic comments," he added. "They're the kind of comments people make when they have two good parents, and I think in a way it's nice that Mrs. Obama and Mrs. Trump love their parents so much. That's a good thing."
He continued, regarding the ongoing controversy:
My goodness, you know, if it wasn't that it'd be something else, they'd pick something else. You know, you give a speech, last night I thought I gave one of the greatest speeches of my life. I get a call from the New York Times telling me 'why were you so emotional?' and 'why were you so this?' and 'why were you so that?' I haven't been able to walk two steps here or in New York without being told 'that's one of the best speeches I ever heard.' So, look, I know what political prejudice can do to the way you look at something. They were going to find something wrong with Mrs. Trump's speech. If it wasn't that, it would've been something else.
On the Hillary Clinton Star of David meme
But Giuliani wasn't so charitable when it came to Trump having tweeted an image of Hillary Clinton featuring a Star of David-shaped icon and a background of flying money.
In the face of backlash, Team Trump altered the image to (mostly) cover up the star. Trump later said it wasn't anti-Semitic and that he wouldn't have changed a thing — even after Mic had tracked the meme back to its white supremacist roots:
Giuliani's take?
"It was a mistake, it was a stupid thing to do. Whoever did it, it was a stupid thing to do. People do stupid things in campaigns. And the reality is, I'm sure before this campaign is over, Donald Trump will do, or his campaign will do 2 or 3 more stupid things and Hillary Clinton will do 2 or 3 more stupid things. It wasn't stupid of Hillary Clinton to say to Congress 'What does it matter how these people died?' That wasn't stupid? I mean there are gonna be stupid things that are said on both sides, then it comes down to who can be the better president. Who do we trust more to protect us?"
On Black Lives Matter and the state of policing
Giuliani, famous for his crackdown on city crime long before he became "America's Mayor" for having led the city during the 9/11 terror attacks, suggested Trump would be good for minorities if elected — saying his own mayoralty had been good for people of color in New York City.
"The country needs an economic revival. I think Donald Trump is perfectly positioned to revive our economy. I think he understands that we will lower corporate taxes to bring money back into America. I believe he knows how to negotiate agreements that will be favorable rather than unfavorable to the United States. I think he understands how to encourage business to grow so we have more jobs. By the way, that will help the African American community, the minority community and all communities."
Prior to the convention, Giuliani had hit Black Lives Matter as an "inherently racist" movement. His tone was a little softer in his Mic sitdown:
"I haven't seen all of their demonstrations. If they are demonstrating as it appears they were the other day, and it was a peaceful protest, of course I have no objection to that. If they protest and they yell 'kill the police,' 'the cops are pigs,' 'down with the police' — and I have seen some of those — then I have serious objection to that. They have a right to do it under the First Amendment, but I think the movement has to get control of itself and get rid of those people. And if they don't, they're just gonna get worse and worse and worse and worse."
Giuliani's brand of Republicanism may still be far too brash for man voters, but his support for abortion rights, for example, sets him outside the Ted Cruz/Mike Pence realm of GOP thought.
Speaking to Mic, he tried to strike a more inclusive note, saying he understood the foundational reasons for Black Lives Matter activism while hoping the nation's problems could be addressed in the frame of law and order:
"All I'm gonna tell you is we need a unity message not just for the good of the Republican party but for the good of the country. I tried to go out of my way to say that there are unjustified police shootings, I recognize that, and those people should be put in jail. When I confronted unjustified police shootings, I put those police officers in jail. Some of them are still in jail, 25 years, 30 years ... Some parts of the Black Lives Matter movement I understand. I understand the anger at not having enough economic opportunity, I understand the anger at failing schools, I understand the anger at not being treated in the way you feel you should be treated ... But I think that should be channeled into political change that improves those things as opposed to posited against the police, who after all, are ones who are keeping you alive."
As far as what put the fire in his belly during his podium address — was it something he had for breakfast?
Giuliani said:
"Well, I think what I had for breakfast yesterday was the slaughtering of the police officers in Baton Rouge and then the program preceding me that involved the people describing Benghazi, the mother who said her son died because of Hillary Clinton's gross incompetence, and who said that Hillary Clinton lied to her, and also a kind of, I think, distress at the way Donald Trump is being treated by the press. This is not a caricature, this is a man, he's a very good man. It's true he can be politically incorrect, but Hillary Clinton, you know, is a criminal."
The mayor seemed pretty satisfied with his work: "I haven't been able to walk two steps here or in New York without being told 'that's one of the best speeches I ever heard,'" he said.
"I love the reception that I got. I've given four convention speeches and that was probably the most applause and more people getting off their feet than ever before," he said, archly adding, "although I have to say rather immodestly: Some of the others were pretty good too."
Read more: