GOP Convention 2016 Day 3: Speakers, Start Time, How to Watch and More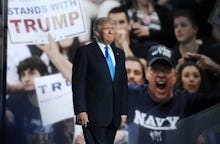 After an eventful first two days, the 2016 Republican National Convention is officially rolling into day three on Wednesday. The theme of the third day of the convention is "Make America First Again," according to the official RNC website, and the night's primetime event, which kicks off at 7 p.m. Eastern, includes a mix of Republican politicians, business owners and members of Trump's inner-circle. Here's what you need to know for day three of the RNC.
Speakers
According to the RNC website, Wednesday night's speakers include conservative talk radio host Laura Ingraham, businessman Phil Ruffin, retired astronaut Eileen Collins and Cleveland-based Pastor Darrell Scott. Several high-profile Republican lawmakers will also take the stage, including Wisconsin Gov. Scott Walker, Florida Attorney Gen. Pam Bondi, who recently made headlines when she clashed with CNN's Anderson Cooper over her history of fighting LGBT rights in Florida, former Speaker of the House Newt Gingrich and his wife, Callista Gingrich.
Wednesday's program also includes appearances from some of Donald Trump's former primary rivals, including Florida Sen. Marco Rubio and Texas Sen. Ted Cruz. Donald Trump's son Eric Trump will also speak, and so will Lynne Patton, Vice President of the Eric Trump Foundation, which fundraises for St. Jude Children's and Research Hospital. Donald Trump's vice presidential pick, Mike Pence, the Governor of Indiana, will close out the night.
How to watch:
Full CBS News coverage of the RNC is livestreaming online here, and the RNC's official YouTube channel also has a livestream.  ABC, CBS and NBC will all begin primetime coverage of the RNC at 10 p.m. Eastern.
Read more: