Queen Leslie Jones Says She'd Like to "Whoop" Justin Bieber and Kanye West On 'WWHL'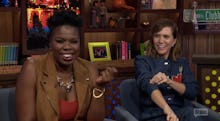 Leslie Jones was full of wit, tea and shade on Tuesday night's Watch What Happens Live, after spending her day calling out racist trolls on Twitter before deleting her account. The Saturday Night Live actress and one of the stars of Ghostbusters (alongside costar Kristen Wiig) admit there's a few others she'd love to call out if given the chance, including Justin Bieber and Kanye West.
A fan of the show called in with a question directed toward Jones, asking her if there were any celebrities she'd like to "read" the way she did Anne Coulter. It only took a moment for Jones to think of a genuine response:
The SNL actress then admit she'd like to give a scolding to West as well, "but Kanye might stab me," she joked.
When asked about West's "fit" he had backstage during a Saturday Night Live performance after his stage set wasn't designed the way he directed, Jones provided the truth: "It wasn't really a fit," she told WWHL host Andy Cohen. "He was just a little upset, but he's cool."
Watch Jones and Wiig's interview on Watch What Happens Live here.
Read more: