A Student Studying Radiation Was Mistaken for a Potential Bomb Threat in Brussels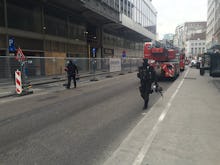 On Wednesday morning, Brussels police were notified of a potential bomb threat when a man near Place de la Monnaie was seen wearing a long winter coat with what appeared to be wires protruding from it. 
According to a tweet from BNO News, authorities gave the all-clear after learning the suspicious man was a student investigating radiation. 
Authorities had evacuated the area and bomb squad had further investigated the threat for "several hours," reported the BBC. For the duration of the stand-off, police reported that the suspect was "under control." The BBC's report includes a photo of the suspect kneeling with his hands behind his head as two officers pointed a gun at him.
Just last month a similar bomb scare occurred when a man in Brussels called authorities alleging he had been abducted and forced to wear a suicide belt that could be detonated remotely. He was found to be wearing a fake explosive device and later admitted to having lied about the entire story.
Still, police in Brussels remain hypervigilant following March's attack which left at least 34 dead and 230 wounded. 
"We got a call about someone acting suspiciously," spokesperson for Brussels police Christian De Coninck told Belgian TV, according to the BBC. "Someone with a heavy winter coat — in these temperatures it's very suspicious."
He added, "We didn't take any risks."
Read more: