Anti-Trump Protesters Build a "Wall" Outside RNC to Protest Trump's Border Wall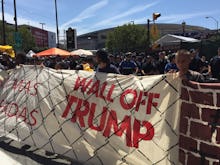 CLEVELAND — Hundreds of demonstrators marched through downtown Cleveland and formed a "wall" outside the site of the Republican National Convention on Wednesday, protesting Donald Trump's controversial proposal to build a wall on the Mexican border.
Protesters marched several blocks from Public Square to the main entrance into the convention site, unfurling canvas banners with anti-Trump messages and forming a line down the block. Dozens of police officers surrounded the peaceful event.
The event, dubbed Wall Off Trump, was organized by the group Mijente, and protesters from other activist groups joined in solidarity. 
Demonstrators said they traveled across the country to participate in the march and protest, one of the most substantial showings of anti-Trump sentiment during the week so far.
Julieta Garibay — a 36-year-old, Mexico-born marcher who lives in Washington, D.C. — said she had come to Cleveland with the group United We Dream Action to support Mijente. She said she was "trying to point out how ridiculous the idea of a wall at the border is."
"We're united against the hate that Trump has been spewing," Garibay, dressed in an orange T-shirt with fellow organizers, said. "This whole militarized city of Cleveland is exactly what a Trump presidency would look like."
Osker Mosco, 35, said he traveled from Santa Barbara, California, to join the demonstration. He and fellow protesters formed a human shield in front of those holding the wall, and he clutched a sign comparing Trump to Hitler in his teeth:
Matt Stys, a 44-year-old activist from Colorado, was representing the group Vets vs. Hate. An Army veteran who served in Iraq from 2007 to 2009, Stys said he wanted "to stop any construction of a wall on the border. We want the wall here, around this hate-filled message."
"Maybe this will pacify this message and lead to more dialogue instead of bigotry and hate speech," Stys said from the line in front of the wall.
Demonstrators remained outside the convention perimeter for just over two hours before returning to Public Square, where the march originated.
Pro-immigrant protesters ramped up demonstrations on the third day of the RNC, which has been almost entirely peaceful despite a tense confrontation on Tuesday. Republican delegates have officially named Trump their presidential nominee, staving off challenges from #NeverTrump forces within the party.
Sabrina Sayeed contributed reporting.
Read more: