Meredith McIver Wrote Melania Trump's RNC Speech, Donald Trump's Campaign Reveals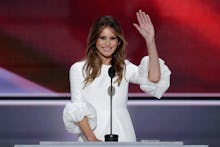 Donald Trump's campaign has named Meredith McIver as the writer behind Melania Trump's controversial Republican National Convention speech, which appeared to borrow from a 2008 speech from Michelle Obama. 
According to CNN, McIver offered her resignation Wednesday morning, which the presumptive Republican nominee rejected.
CNN anchor Maeve Reston said McIver has also helped the candidate Trump write a number of his books, and in a statement from McIver herself under the Trump Organization letterhead, she called herself a "longtime friend and admirer of the Trump family."
McIver said when she was working with Melania Trump on her speech, the prospective first lady mentioned she had "always liked" Michelle Obama.
"Over the phone, she read me some passages from Mrs. Obama's speech as examples," McIver continued. "I wrote them down and later included some of the phrasing in the draft that ultimately became the final speech."
McIver's statement flies in the face of New Jersey Gov. Chris Christie, who staunchly maintained the speech shouldn't be considered plagiarism because 93% of its contents were "completely different." Similarly, RNC spokesman Sean Spicer defended Melania's speech, comparing her words and phrasing to that of a character from My Little Pony. 
And, of course, Trump stood by his wife and shrugged off the media's backlash, writing in a tweet, "Good news is Melania's speech got more publicity than any in the history of politics especially if you believe that all press is good press!"
Read more: