Donald Trump Adviser on Hillary Clinton: "Anyone That Commits Treason Should Be Shot"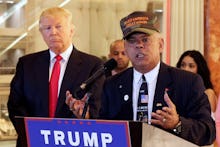 In an interview with the Daily Beast on Wednesday, Donald Trump campaign veterans affairs adviser Al Baldasaro followed up an ugly night of calls at the Republican National Convention for presumptive Democratic nominee Hillary Clinton to be prosecuted and jailed by taking the argument to an extreme conclusion. 
Clinton, Baldasaro believes, should be "shot" for treason.
According to Baldasaro, her use of a private email server while secretary of state is an offense worthy of death by firing squad.
"Anyone that commits treason should be shot," Baldasaro told the Beast. "I believe Hillary Clinton committed treason. She put people in danger. When people take confidential material off a server, you're sharing information with the enemy. That's treason."
He added that under the Uniform Code of Military Justice, treason is an offense that could be punishable by death.
"I'm a military man," Baldasaro continued. "Any person who gives up information on an unclassified server, you're putting Americans at risk. ... What makes her any better than people in the military? What makes her above the law?"
In addition to advising the campaign on veterans issues, Baldasaro is a member of the New Hampshire House of Representatives. According to the Guardian, he "has been at nearly every rally Trump has held in the U.S. northeast over the past year, often onstage speaking in his role as co-chairman of the candidate's New Hampshire veterans' coalition. ... And when Trump talked about his support for veterans in the final Republican debate before the primary, he name-checked Baldasaro in front of 13 million viewers."
In an email to Mic, Trump campaign spokesperson Hope Hicks wrote simply, "The campaign does not agree."
She did not respond to a followup question regarding whether the campaign believes Clinton should be behind bars.
Read more: