Artists Take a Bold Stand After Accusing Zara of Ripping Off Over a Dozen of Their Designs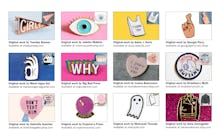 After Spanish clothing retailer Zara was accused of ripping off at least four of Tuesday Bassen's designs, the Los Angeles-based artist decided she had to do something. Tuesday night, Bassen tweeted out a damning indictment of the brand, including side-by-side photos of her original art work and the products Zara passed off as its own.
"You know what?" Bassen wrote. "Sometimes it sucks to be an artist because companies like Zara consistently rip you off and deny it."
As Bassen noted, what happened to her wasn't unusual. Artists have called out companies like Urban Outfitters and Forever 21 in the past for cribbing their designs without permission and making millions in the process. But because independent designers like Bassen don't have nearly as much power of reach as international brands, eventually, their allegations fade into the ether.
When Bassen's legal representation brought her claims to Zara's lawyers, the company sent back a glaring rejection letter, stating, "The lack of distinctiveness of your client's purported designs makes it very hard to to see how a significant part of the population anywhere in the world would associate the signs with Tuesday Bassen." 
In an interview with the Daily Dot Bassen said, "It absolutely hurts my business and waters down the brand I've slowly built based around my original artwork."  She added that the legal fees alone are enough to tear down an independent artist: She'd paid $2,000 just to send her claims to Zara.
But Bassen isn't giving up — not just for her own sake, but for the recognition of at least a dozen other artists who also believe Zara has stolen their designs. New York City illustrator Adam J. Kurtz said when Bassen's tweet blew up, he and a handful of other artists were texting and Facebook messaging each other, realizing the brand had stolen a slew of their designs all at once.
In a stand against the company, Kurtz opened an online "store" called Unauthorized Reproductions on his personal website providing links to the original work the brand appears to have plagiarized, including pins and patches from himself, Bassen and 15 other artists.
In a statement to BuzzFeed News, a Zara spokesperson said Inditex, Zara's parent company, "respects any third party's creativity and takes all claims concerning third party intellectual property rights very seriously." The spokesperson said the brand had "suspended sale" of the "relevant items" and had opened an investigation. (Mic has also reached out to Zara and will update this story when we hear back.)
Kurtz isn't buying it. And he's not giving the company a pass for its initial response, which he said communicated, "I'm big, you're small."
"It doesn't take a genius to see what happened," Kurtz said in an interview on Wednesday. "Sometimes it could be human error or a coincidence — trends happen. But to take four pieces of Tuesday's art and do it to all of these other artists isn't a mistake; it's a routine."
Kurtz, who's a close friend of Bassen's, ventured that the international clothing retailer was taking advantage of a niche of rising contemporary illustrators who have translated their print and digital work to the popular twee pins and patches. 
Sara Lyons, who said she had one of her designs ripped off by Bershka, one of Zara's subsidiaries, earlier this year, said she thinks big brands know independent artists are an easy target.
"The most frustrating thing about these situations is that every time, it would be so easy for these brands to track down the original artists and offer them collabs, or at the very least, licensing contracts for their work," Lyons continued. "And when called out, it would be so easy for these brands to apologize and pay up. "
Kurtz added, "It's not like every big company is awful —  this one [Zara] forgot the internet exists and forgot Twitter never forgets, and forgot we save receipts."
Because of social media, brands have more watchful eyes on them than ever, and even if they don't have to face a real-life jury, they'll often be forced to answer to the court of public opinion. Last year, the internet indicted Josh Ostrovsky, who runs the popular Instagram account the Fat Jewish, for stealing jokes. Now, he often tags users in his captions and includes his email address in his bio for anyone seeking a byline for their work. 
Though Lyons admitted that Urban Outfitters has had its fair share of missteps as a company, both agreed it's at least learned to give credit where credit is due. The site's main pages for men's and women's styles even features a "brands" drop-down menu with hundreds of designers and artists with whom they partner. And in the copy describing the products, like Kurtz's "Thank You" bag pin, Urban Outfitters refers to him by name, calling Kurtz one of their "favorite illustrators." 
These are details to keep an eye out for as a consumer to ensure brands are being honest and fair to artists, according to Lyons. If something looks suspicious, a simple Google search can usually clear things up (which is why, Kurtz and Lyons both pointed out, Zara's rip-offs are so egregious). Finally, Lyons advised consumers do their best to stay in the loop with independent artists they like and keep up with the artists those artists like, too.
"If you're always widening your circle of awareness, you'll not only always be finding more cool stuff, you'll be less likely to accidentally buy products that use stolen work," she said. 
It may be frustrating to be exploited, but Kurtz believes independent artists will ultimately come out on top. Though Bassen will spend time and money to receive recognition for her work, she wasn't available for an interview with Mic because she was already on her way to San Diego's Comic Con to show and sell her work to hundreds of fans. 
Zara may never be held legally accountable, but going forward, the brand can be sure it'll be under close public scrutiny.
"The internet has been amazing for indie artists and people like me have careers because the trend is leaning toward supporting [them]," Kurtz said. "The same culture that's allowing me to work as an independent creative is the same culture holding Zara accountable."
Read more: