At a Frenzied Republican Convention, the Trump Women Use Style to Show Composure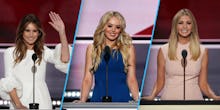 When Melania Trump took the stage at the Republican National Convention in Cleveland on Monday, she wore a wedding dress. 
It was a white, knee-length, puffy-sleeved dress worth more than $2,000, which Trump bought herself from the online retailer Net-a-Porter. "Roksanda's 'Margot' dress is a beautiful option for the modern bride," the description for the dress read, before it sold out the next day. 
Although Trump didn't wear this on her wedding day (she opted for a dress worth more than $100,000 for that), the dress had all the details a wedding dress should have, including an implication of purity and perfection, as she stood before the world endorsing her husband for President of the United States. 
When she appeared, not a hair was out of place. Her bronzer was rightly sculpted. From the beginning of her husband's campaign, this has been her role. She's been there to give this campaign the image of not only confidence, but composure. 
During a frenzied and panicked Republican National Convention, it was the Trump women who offered the crowd a sense of composure — and they achieved that seemingly impossible task through their clothing. For Melania, although her words were plagiarized, her image was one of relative calm.  
On Tuesday, Tiffany Trump, Donald Trump's lesser known daughter from his marriage to Marla Maples, proved this point exactly. Before the convention, she had barely spoken about her father's run for president, opting to stand in the background during the few times she popped up on the campaign trail.
But at the convention on Tuesday, Tiffany, just 22 years old, was called in to ensure the country that her father was a decent man. "I always looked forward to introducing him to my friends, especially the ones with preconceived notions, because they meet a man with natural charm and no facade," she said. 
For the speech, she wore a knee-length dress with a bit of a flirty skirt, and a matching blue belt by a designer that's still under wraps. Just like Melania Trump, not a hair was out of place, and her makeup looked just understated enough. As a former intern at Vogue and the half-sister of Ivanka Trump, expecting anything less would have been foolish. 
Her presence proved the same thing that Melania's did: In this election cycle, women are at their most valuable when they look perfect and follow the political world's antiquated style rules, which stresses not wearing anything too outlandish — and not spending too much either. 
This doesn't just go for the Trump women, but all women in politics the world over as well. 
"When you're dressing for the convention, you do have to take into consideration the people you're in front of," Lisa Cera, who's been Tiffany Trump's stylist for months now, said in an interview. "When you're in politics, you have to know what classic silhouettes are. You have to know what classic colors are. I wouldn't go for cleavage too low or anything see-through or anything too short. And then it's all about fit." 
On Tuesday night, Cera's equation for appropriately dressing a 22-year-old who was just recently thrust into the political spotlight worked. Besides the fact that people thought Tiffany sounded like Miley Cyrus, there really was no fuss over her looks at all. 
"If I had put something on Tiffany that was too casual, someone would have said something," Cera said. "If she had a clunky shoe on, or the an earring that was too long, they would have said something. But they didn't! They didn't say anything at all!"
In the world of political dressing, for women, they must walk a careful line if they want to be completely uncontroversial, opting for classic (and maybe borderline boring), rather than making a statement or attempt to spark a trend, and that's largely because of how the press obsesses over what women wear.
For Melania, not making headlines may be more difficult, as her personal style does tend to be more provocative, and more hot pink than, say, American Flag red. In an Elle profile in which she gushed about designers like Alexander McQueen and Stella McCartney, she said: "I like to get dressed up. I don't see myself going out in sweats, dropping Barron [her son] at school in sweats — it's just not my style, never was. I like to put myself together and go out." 
But at the convention, Melania Trump knew how she had to dress.
"She dresses very differently in real life and than in politics," Cera said. "There's a definite difference between those two styles, but I think she did really well at bridging that gap. If you take a really good look of it, you can tell by the outfit that she's an independent woman."  
In a political climate that creates regular fodder from judging women's appearances, it is increasingly hard not to spark any sort of controversy. 
"I always say that style is how you tell people who you are before you open your mouth. Before you say anything, they see you. So, of course, they're going to be judged," Cera said. "We are watching and we are critiquing everything. We're on it on the minute. We're tweeting and we're Instragramming right there. It's a wild world we live in, but I get to do this." 
Meanwhile, Trump's other daughter, Ivanka Trump, easily aligned herself with her stepmother and stepsister at the RNC by following the political fashion rules, going so far as to wear a blush pink, knee-grazing, sleeveless dress she designed herself to make sure she both completely controls her image and doesn't fall prey to anyone complaining about how expensive her dress is. 
The retail price, according to reports? $138. 
On the other nights of the RNC as well, Trump's eldest daughter took to wearing her own designs, including a $158 cream dress and $135 black suede pumps. 
After seeing Melania, Tiffany and Ivanka all attend the RNC and make no waves at all with their clothing, what's clear here is that these women know the rules. Or, at the very least, their stylists do. In the world of political dressing, you have to stick to the classics. 
But if they ever stumble, best believe you'll hear about it. 
Read more: