If Apple Designed Pot Chocolate Bars, This Is What They'd Look (and Taste) Like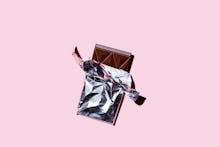 On paper, Eric Eslao is one of the last people you'd expect to start a weed-infused chocolate company. Other than being a self-proclaimed foodie, Eslao has no real experience in food. He spent six years at Apple as a production manager for iTunes. And he's the first to admit that he isn't much of a stoner. 
"I'm not a big cannabis user ... but I saw a big opportunity," Eslao said over the phone.
While that's surprising to hear from the CEO of a pot chocolate company, Eslao's business instincts were right on the money: Edibles, or cannabis-infused foods and drinks, are estimated to contribute to about half of the $5.4 billion marijuana business, according to Bloomberg. That means Eslao's California-based company Défoncé Chocolatier has a $2.7 billion market to corner.
"A year and a half ago, I saw a gap in the market when it came to edibles," Eslao said. "I really felt like the heavy cannabis user was being over-served in the market. A lot of companies were pushing potency as a selling point in their edible products, but there was no focus on taste." For Eslao, that was a moment of realization: "Taste is the most important thing. You don't buy a cookie because of the number of chocolate chips, you buy the cookie because it is delicious."
And so the idea for Défoncé — which means "high" in French — was born. To set the brand apart, Eslao turned to his previous employer's playbook. "I looked at edibles in the same way that Apple looks at iPhones," he said. "We really made sure the entire experience was good from the visuals to the taste." 
"I looked at edibles in the same way that Apple looks at iPhones."
Eslao hired former Apple designers to help create Défoncé's sleek packaging. (He also poached expert chocolatiers from TCHO, a popular California-based chocolate company known for its transparency when it comes to its supply chain.) "We wanted to stay away from greens and purples and natural papers [that are typically associated with weed and edibles]," he said. Instead, the team drew from their time at Apple. 
"We share many elements with Apple," Eslao admitted. The team used the "double soft touch black that is found on all Apple TV packaging" and even the foil lining the chocolate bar was pulled from phone maker. "The original foil was the same as all apple packaging, but then we switched to gold because it felt  maybe too close [to Apple's design]." Défoncé's packaging includes a lot of colors, which is a departure from Apple's more neutral color palette. 
Aside from the clean and minimal packaging, the chocolate bars themselves have a unique aesthetic. Instead of delivering a standard chocolate bar shape, one with individual squares, Eslao had a custom mold built for his chocolates. In terms of the content, all of Défoncé's bars feature 18 geometric doses of cannabis. "The experience of opening up, and the packaging, and feeling surprise and delight, just the way Apple does it, was very important to use," Eslao said. "When you open the bar, it's not just any bar. It's actually attractive." (Even Eslao's diction is dripping with Apple's influence. In 2014, the word "delight" oversaturated product descriptions in Silicon Valley.)
This obsession with detail is extended to the chocolate itself. "I wanted to make chocolate specifically because I knew my competition wasn't doing things right," Eslao said. Often, his competitors will leave too much marijuana plant in their chocolate, "so that the bar tastes heavily of weed," he says. 
Défoncé's chocolate is different.
Eslao explained that THC has no taste or smell, and the cannabis flavor is actually due to a compound called terpenes, hydrocarbons found in the essential oils of plants. To combat the flavor, Eslao and his team strip the THC of any terpenes during the extraction process, which results in a weed chocolate bar that tastes like chocolate — not weed. "You might enjoy the flavor of cannabis when you smoke it, but when you eat something, you don't want it to taste like cannabis. I felt like this was especially important for people new to edibles."
But will it get you high?
Indeed. Each bar contains 180 milligrams of THC, which comes out to around 10 milligrams of THC per serving — a standard dose in some states. And since each bar costs $20, that works out to just over a dollar per serving. Défoncé weed chocolate bars are available at dispensaries around California in a range of flavors, including milk, dark, matcha, vanilla, mint, coffee and hazelnut. 
Eslao also sets a high standard in the weed he sources. Défoncé uses marijuana from a single farmer who grows the plants in California's Sierra Nevada foothills. "He uses no chemical pesticides or chemical fertilizers ever, so all of the weed is 100 percent natural," Eslao said. 
As for the future,  Eslao said he'd like to branch out into making a line of edibles for use in a professional kitchen. "A number of pastry chefs and people in the restaurant world are getting into edibles, but the issue with most weed butter recipes is that it makes the baked good taste mainly of cannabis." Eslao wants to make weed-infused baking chocolates, simple syrups and butters for pastry chefs that don't affect the taste of dishes they are used in.  For now, however, making good chocolate is the highest priority on his list. 
Read more: