Jan Brewer, Who Was Trump Before Trump, Has Had It With #NeverTrump Republicans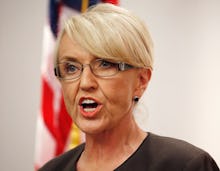 CLEVELAND — Long before Donald Trump embarked on his improbable trajectory toward the Republican presidential nomination, Jan Brewer showed that Republicans could reap dividends with a populist-flavored, anti-illegal immigration brand of conservatism.
Now, six years after she attracted conservative plaudits and progressive scorn for signing a law authorizing law enforcement officers to demand the papers of anyone they suspected of being in the country illegally, the former Arizona governor is one of the Trump Train's most enthusiastic conductors.
And she has a stern message for GOPers who've yet to get aboard.
"It's over," Brewer said Wednesday, speaking to Mic from the floor of the Republican National Convention. "As we leave here with the momentum at our backs, we all have to go out there and put our game face on."
The alternative? President Hillary Clinton, whose staunch support of comprehensive immigration reform places her squarely at odds with the message espoused by Brewer and Trump. Brewer endorsed Trump in February.
Brewer's support came well before most other prominent Republicans lent their support to his candidacy. But for the 71-year-old veteran of the Grand Canyon State's politics, it was a natural alliance.
"We in Arizona brought [illegal immigration] to the forefront," Brewer said. "With Donald Trump, we finally have a president who says, 'I'm going to go in there and the federal government is going to enforce our country's immigration laws.'"
The similarities between the two go well beyond immigration: As Josh Barro noted for the New York Times, both have bucked conservative orthodoxy in advocating for the expansion or preservation of entitlement programs, with Brewer expanding her state's Medicaid program under the Affordable Care Act and Trump steadfastly opposing cuts to Medicare, Medicaid and Social Security.
They've also angered social conservatives within the party. Trump has drawn their suspicion thanks to his mixed record on abortion and his rhetoric embracing LGBT rights, while many religious conservatives denounced Brewer after she vetoed a "religious freedom" law that could have provided a legal shield for businesses and individuals engaging in anti-LGBT discrimination.
But both political figures are inextricably linked to the immigration issue. And polls suggest that Trump's fierce rhetoric targeting Mexicans and his call for the deportation of the estimated 11 million undocumented immigrants currently living in the country may drive record-breaking Hispanic turnout against the GOP, delivering Brewer's state to the Democratic nominee for the first time since 1996.
The RealClearPolitics polling average shows Clinton and Trump deadlocked in Arizona, with Clinton at 43.5% and Trump at 43%.
Brewer maintains that Trump will prevail in the state.
"We've got a good ground game in Arizona. Arizona is red and we contend it's going to stay that way," she said.
The Trump campaign recently announced the hire of Brian Seitchik as its state director in Arizona, where Seitchik will lead the campaign's efforts to identify, target and turn out supporters in the fall.
The highly charged politics of immigration have stoked perennial Democratic hopes of turning Arizona blue, but those hopes have yet to materialize. Immigration reform advocates hoped to defeat Brewer in her 2010 gubernatorial run, only to see her defeat a credible Democratic challenger by 12 points. Two years later — with "self-deportation" advocate Mitt Romney at the helm of the GOP ticket — President Barack Obama lost the state by nine points, despite some early polls suggesting he and Romney were headed to a photo finish.
Brewer is confident that unlike Romney, Trump will prevail at the national level, as well, saying Americans are hungry for a "job creator" like the billionaire real estate magnate.
But watching the national success of a populist conservative who champions an immigration crackdown and has occasionally ruffled Republican feathers, does Brewer ever contemplate what might have been?
"Ha! I have no aspiration to be president of the United States," she said.
Read more: